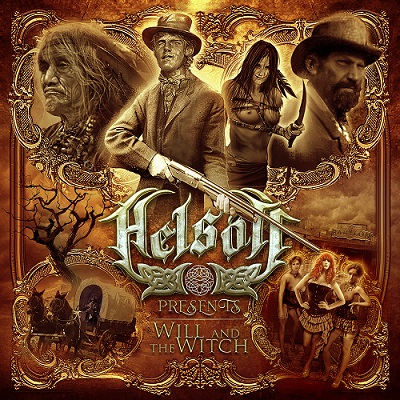 HELSOTT
Titel: WILL AND THE WITCH
Spieldauer: 61:55 Minuten
VÖ: 20. Mai 2022
Die Epic/Pagan Metaller HELSOTT bestehen seit 2019 und haben es seitdem auf den respektablen Release von jeweils zwei EPs und Full-Length-Alben gebracht. Nun erscheint mit "Will And The Witch" also der dritte Longplayer.
Der Sound des kalifornischen Quartetts beinhaltet Elemente des Thrash, Power und Death Metals, aber auch Orchestrierungen und Teile akustischer Lagerfeuermusik. Für den Wild West/Southern Flair des Konzeptalbums über den Revolverhelden Billy The Kid sorgen Parts mit Banjo und Fidel, die Native American Vibes sind durch Handtrommel und Flöte vertreten.
Im Wesentlichen kann man sich eine Mischung aus schnellen Abgehparts á la Finntroll und Ensiferum zusammen mit mächtigen Riffs und "Amon Amarth Vocals" vorstellen. Dabei werden diese Elemente größtenteils innerhalb der Stücke kombiniert, es gibt aber auch Songs, die mit einem der Stile auskommen.
Während kurze Tracks wie der Opener `I´ll Make You Famous´ und der grandios-packende Titelsong oder auch das dunkel-unheimliche `Independence Night´ mit Gastvocals von Tim "Ripper" Owens direkt auf den Punkt kommen, sind aus anderen Stücke wahre Epen geworden.
So weisen sowohl das beinahe zehnminütige `Skin Out´ als auch der Siebenminüter `Welded As One´ alle genannten Trademarks der Band auf und beziehen ihre Dynamik aus dem stimmigen Wechsel zwischen schnellen und langsamen, ruhigen und heavy Passagen.
Neben kraftvollen Songs wie `Babylon: Scarlett´s Salon` oder dem abschließenden `Regulators´ steht ein reines "Sauflied" wie `Spit Bucket Brawl´ seinen Mann, bevor `Navajo Crow´ mit noch mehr indianischen Klängen und Gesängen überrascht.
Insgesamt eine abwechslungsreiche Scheibe mit einem interessanten, nicht alltäglichen Sound mit viel Eigenständigkeit und Wiedererkennungswert, aber relativ wenig Eingängigkeit. "Will And The Witch" ist daher spannend, aber alles andere als Easy Listening, und über die volle Stunde. ein mitreißendes, aber auch forderndes Hörerlebnis.
Michael Gaspar vergibt 7,5 von 10 Punkten