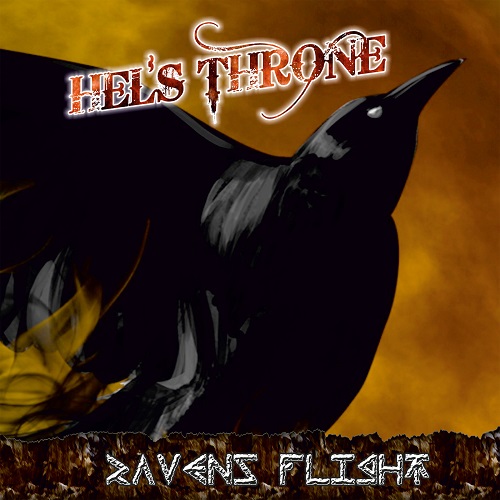 HEL'S THRONE
Titel: RAVENS FLIGHT
Label: WORMHOLEDEATH RECORDS
Spieldauer: 30:13 Minuten
Die deutsche Symphonic Metalband HEL'S THRONE startete zunächst als Coverband in der deutschen Clubszene und startet nun nach fertiggestellter Produktion und erfolgreicher Labelsuche mit ihrem Debütdreher "Raven's Flight" als CD-Version durch, der digital bereits Mitte 2021 erschienen ist.
Der Sound des bunten Sixpacks ist ebenso heavy und kraftvoll wie episch und orchestral, dabei aber nicht zu verspielt und bombastisch, sondern geradlinig und mit einem Händchen für gute Melodien und eingängige Refrains ausgestattet. Songs wie der Opener 'Mistress Of Eternity' und der Titelsong entwickeln sich so zu treibenden, furiosen Hymnen mit den klaren Vocals von Frontfrau Bekka im Kontrast zu den männlichen Growls ihres Bandkollegen Litze.
Das mit einer Spieluhr beginnende 'Ghost Of Yesterday' geht voll in diesem atmosphärischen Wechselspiel auf und glänzt erneut mit einem mitreißenden Chorus und einer langen, schleppenden Instrumentalpassage und teilweise gesprochenen Vokalparts, nachdem der Song in Piaonoklängen fast zum Stillstand kommt.
'Tears In The Ocean' ist dann eher wieder ein straighter, schnörkelloser Metalsong ohne große Spielereien, dessen komplett weibliche Vocals an Annette Olzon erinnern und der mit einem kurzen Gitarrensolo endet. Beim folgenden 'Born Again' geht es wieder deutlich melodischer und mit Chören und üppigen Orchestrierungen zur Sache.
Auch der abschließende Coversong 'Faded', im Original vom britisch-norwegischen Produzenten und DJ Alan Walker gemeinsam mit der norwegischen Sängerin Iselin Solheim aufgenommen, passt optimal zum Sound der Band und zur Stimmfarbe der Fronterin und wird perfekt in den Stil des deutschen Sechsers übertragen.
Grandioses Debüt, von dem man gerne noch mehr hören würde als diese packende, mitreißende, kurzweilige halbe Stunde!
Michael Gaspar vergibt 8 von 10 Punkten