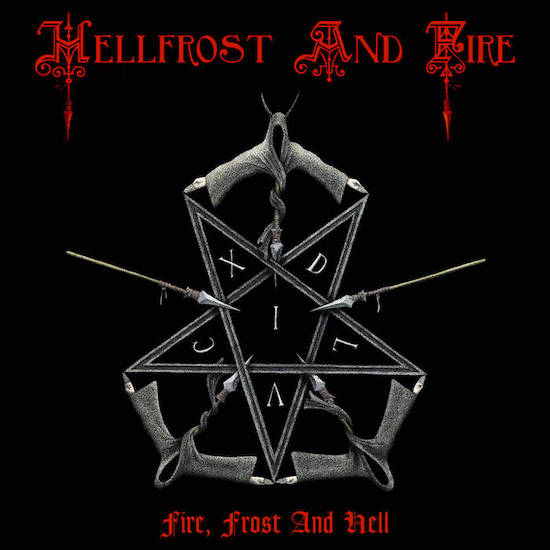 HELLFROST AND FIRE
Titel: FIRE, FROST AND HELL
Label: TRANSCENDING OBSCURITY
Spieldauer: 40:45 Minuten
VÖ: 18. März 2022
Wenn an einer Scheibe Dave Ingram steht, wissen alle was zu erwarten ist: kellertiefe Vocals, die eine absolute Referenz im Old School Death Metal sind, wie er zuletzt bei Benedictions "Scriptures" bewies. Letztes Jahr hat er sich mit Rick DeMusis und Drummer Travis Ruvo zusammengetan, um die alten Sounds der frühen Death Metal Tage wieder zu neuem Glanz zu verhelfen. Das Ergebnis heißt HELLFROST AND FIRE und wird noch von Memoriams Scott Fairfax Gitarrenseitig unterstützt.
Keine Kompromisse und keine Experimente also im Hause Ingram, der mit HELLFROST AND FIRE einfach nur heavy , dunkel und straight aus den Speakern donnert. Schwer wie Bolthrower, primitiv wie Benedictions "Subconscious Terror" und  darauf thronend, Daves Signature Vocals, die jeder einzelnen Silbe die nötige Bedrohlichkeit verleihen, legen die Grundlage für ein "no bullshit" Album, das den Hörer in seiner Einfachheit zurück in die 80er und frühen 90er Jahre packt und einfach niederwalzt.
Natürlich fehlt jede Überraschungen für alte Death Metal Fans, die mit exakt diesem Sound aufgewachsen sind. Aber genau das ist das Ziel der Scheibe: Zehn slow und mid-Tempo Stampfer sowie einige Bangerpassagen, die vollständig glaubhaft und überzeugend den Geist des unpolierten ancient Death Metals wiederspiegeln. Und zwar vom Opener 'Legion Of Hellfrost And Fire' bis zum Abschlusstrack 'Within and Without the Emperor's Frontier'. Als einziges Manko, bleibt vielleicht, dass nicht jeder Song bei mir zündet und das Gaspedal für meinen Geschmack ruhig häufiger getreten werden könnte.
Dennoch ist "Fire, Frost and Hell" ein Geschenk für alle OSDM Fans, das die "guten alten Tage" zurückbringt.
Sven Bernhardt vergibt 8,5 von 10 Punkten