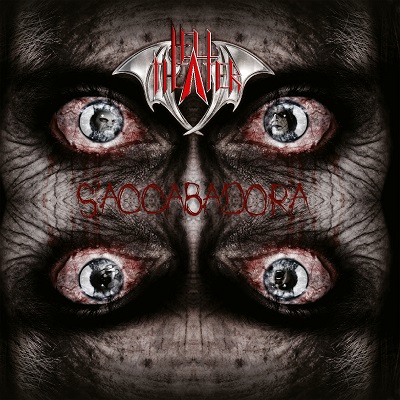 HELL THEATER
Titel: S´ACCABADORA
Label: WORMHOLEDEATH RECORDS
Spieldauer: 59:34 Minuten
VÖ: 28. Oktober 2022
Nach der aggressiven EP "Smell Of Blood" (2011) und dem Longplayer "Reincarnation Of Evil" (2012) legen die italienischen Horror Metaller HELL THEATER ein weiteres, zehn Tracks und eine knappe Stunde starkes Konzeptalbum namens "S´Accabadora" vor.
Frontsirene Victor Solinas, Brian Steele (Rhythmus- und Leadgitarre), Bob Axx (Rhythmus- u. Leadgitarre, Keyboard) und Drummer Unh Buryan formen das Quartett, welches durch durch Guh Luh, den Live-Bassisten der norwegischen Black Metal-Truppe GORGOROTH, verstärkt wird.
Die Geschichte hinter der Musik basiert auf einer sardinischen Legende, wonach sich Familien, wenn Angehörige im Sterben liegen, die Accabadora, eine schwarz gewandete "Hexe" mit magischen Kräften, ins Haus holen, welche dem Leiden in einer Art Sterbehilfe meist mithilfe eines Hammers aus Olivenholz ein Ende bereitet.
Damit ist auch schon die Basis für eine düster-gruselige Grundstimmung gelegt, die durch Orgelklänge, Stimmen und andere Soundeffekte erzeugt und verstärkt wird. Musikalisch gibt es im Kern klassischen 80er Metal mit einem Schuss Thrash, Epik und haufenweise Theatralik, die nicht zuletzt durch die dramatischen, durch Kopfstimme und hohe Screams gekennzeichneten Vocals entsteht.
Man denkt an King Diamond und Them und heavy Songs wie `Eyes Painted Blood´, `A Strange Death´ oder das Album-Glanzlicht `Domus De Janas´ wissen in Teilen durchaus zu gefallen. Gleiches gilt für das geisterhafte `Mamuthones Dance´ und das flotte ` Morte Be Thy Name´.
Insgesamt bietet die Scheibe aber zu wenig wirklich gute, stimmige Songs und zu viel übertriebene Theatralik. Und auch der hochtrabende, in der Info genannte Begriff der Horror Oper ist deutlich zu hoch gegriffen.
Michael Gaspar vergibt 6,5 von 10 Punkten