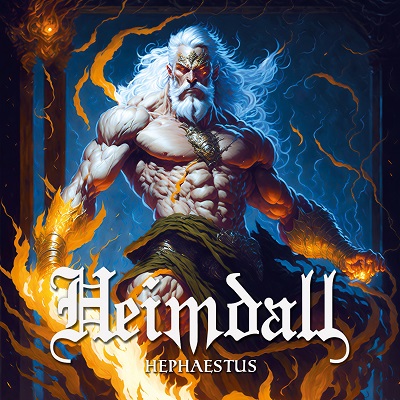 HEIMDALL
Titel: HEPHAESTUS
Spieldauer: 41:07 Minuten
VÖ: 25. August 2023
Eine Menge neue Alben kommen offenbar diesen Monat aus Italien, so auch der sechste Silberling der Heavy Power Metaller HEIMDALL.
Gegründet wurde die Gruppe bereits 1994 von Gitarrist Fabio Calluori und Drummer Nicolas Calluori, die gemeinsam mit Giovanni Canu (Bass), Sänger Claudio Gallo und Carmelo Claps (Gitarre) das Debüt "Lord Of The Sky" (1998) herausbrachten.
Nun 25 Jahre und einige Lineupwechsel später also die neue Scheibe "Hephaestus", die gleichzeitig den neuen Sänger Gandolfo Ferro und Bassist France Amoroso vorstellt, der erst im Laufe dieses Jahres zur Band stieß.
Das Quintett präsentiert einen eingängigen, melodischen und kraftvollen Metalsound, der unterhält und weder überrascht noch wehtut, aber doch von einer gewissen Qualität, Energie und Dramatik geprägt ist, manchmal klassisch und ein wenig theatralisch, manchmal eher hymnisch und getragen oder pfeilschnell und mitreißend.
Der Opener und Titeltrack erinnert mit seinem majestätischen Chorus an die Warkings und der Ohrwurm `The Runes´ ist bestes Futter für Fans der schwungvoll-spritzigen Europower. Apropos `Power´, ein weiterer pfeilschneller, eingängiger Track, der sich anschließt.
Doch HEIMDALL können es auch hymnisch und erhaben, wie `We Are One´ beweist. Und auch der Refrain von `King´ ist nicht von schlechten Eltern und bleibt wiederholt im Gedächtnis haften, wie sowieso der ein oder andere Durchlauf der Scheibe nicht schadet, eher im Gegenteil.
Nur von der Queen-Coverversion `The Show Must Go On´ hätte man wohl besser die Finger gelassen. Nicht weil sie unbedingt schlecht umgesetzt wäre, aber weil es einfach Songs gibt, die man nicht anders oder gar besser machen kann.
Einen Sonderapplaus gibt es dagegen noch für das gelungene Coverartwork, bei dem mir einfällt: ich muss mal wieder in die Muckibude.
Michael Gaspar vergibt 7 von 10 Punkten