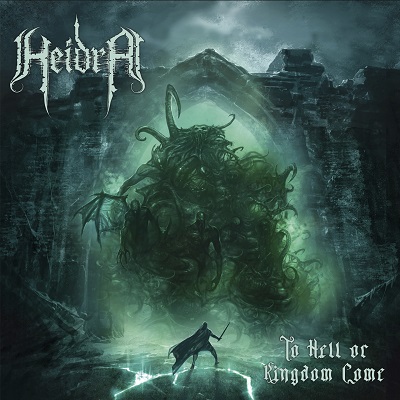 HEIDRA
Titel: TO HELL OR KINGDOM COME
Spieldauer: 51:37 Minuten
VÖ: 08. April 2022
Die 2006 gegründete und aus Kopenhagen stammende Metalband HEIDRA zockt eine Mischung aus Melodic Death, Melodic Black, Power und Folk Metal. Zumindest galt dies für die Vorgängeralben, während der Schwerpunkt anno 2022 eher auf einem Mix aus Melodic Death und melodischem Power Metal liegt.
Nach der Debüt-EP (2014) und den beiden Longplayern "Awaiting Dawn" und "The Blackening Tide" bildet die neue Scheibe "To Hell Or Kingdom Come" den Schlusspunkt der "The Dawn Trilogy". Das Quartett wird verstärkt von Francesco Paoli (Fleshgod Apocalypse), der die Drums eingespielt hat.
Ergänzt wird der musikalische Cocktail durch Epic und Viking-Elemente, der Black Metal Anteil beschränkt sich auf die teilweise krächzenden Vocals, welche sich mit Growls und melodischem Klargesang abwechseln. In großen Teilen klingt das Ganze wie ein Hybrid aus Grand Magus, Amon Amarth und Manowar.
Nicht alle Songs sind Volltreffer und es fehlt der ein oder andere so richtig geile Refrain und die ein oder andere geniale Melodie, die nicht mehr aus dem Gedächtnis will. Und der andauernde Wechsel zwischen den diversen Vocals nimmt manchmal etwas gleichförmige, beinahe schematische Züge an.
Doch auch diese etwas abwechslungsarmen, ansonsten aber gelungenen Songs kann man nicht als schlecht bezeichnen und daneben gibt es auch echte Glanzpunkte. So beispielsweise und vor allem das grandiose `Dusk` und das fesselnde `Fall Of The Fey`, welches einmal mehr beweist: Chorus kommt von Chören!
Hervorzuheben sind darüber hinaus der treibende, eingängige Titeltrack, die epische Piano-Ballade `Ancient Gates` sowie das hymnisch-majestätische `Cloaks And Daggers`.
"To Hell Or Kingdom Come" ist trotz einiger Defizite eine gutklassige Scheibe, in die Freunde aller genannten Fakultäten mal reinschnuppern sollen und dürfen. Da ist bestimmt für beinahe jeden etwas dabei.
Michael Gaspar vergibt 7,5 von 10 Punkten