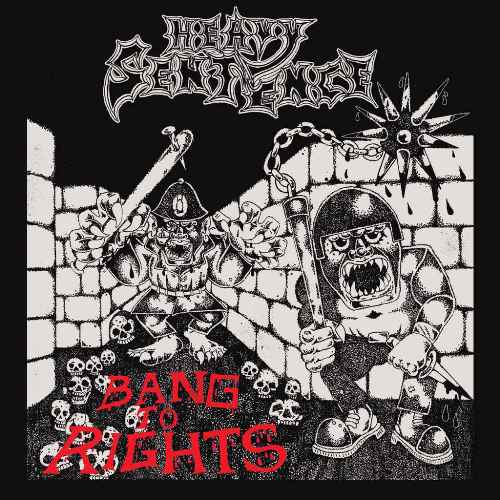 HEAVY SENTENCE
Titel: BANG TO RIGHTS
Label: DYING VICTIMS PRODUCTION
Spieldauer: 36:28 Minuten
Nach den ersten Minuten des Hörens von "Bang To Rights" der Briten HEAVY SENTENCE denkt man sich unweigerlich, dass hier irgendein Dreher der achtziger Jahre aus dem Hause Ebony oder Mausoleum wieder veröffentlicht wurde. Jedenfalls passt sowohl die Mucke als auch die Produktion zu vielen weiteren Kapellen besagter Schaffensperiode und Herkunft.
Aber weit gefehlt, denn HEAVY SENTENCE ist eine Kapelle aus Manchester, welche mit "Bang To Rights" ihr Debüt Album abliefert, aber schwer nach New Wave of British Heavy Metal mit ner ordentliche Prise Punk klingt.
Der Punk Einschlag beruht auch auf dem schnoddrigen, rauen Gesang von G.Howells, der Tracks wie dem schnellen Opener 'Medusa', dem von einem sägenden Riff eingeleiteten 'Cold Reins' mit seinen Tempi Wechseln, der groovigen Band Hymne 'Heavy Sentence' und dem mit ordentlich Motör Vibes aufwartenden 'Wicked Lady' noch eine gewisse Räudigkeit verleiht.
Zwar wird das nicht für den ganz großen Durchbruch reichen – hätte es damals mit Sicherheit auch nicht -, etwas über eine halbe Stunde ordentliche Unterhaltung mit anachronistischem Charme ist allerdings garantiert.
Ludwig Lücker vergibt 7 von 10 Punkten