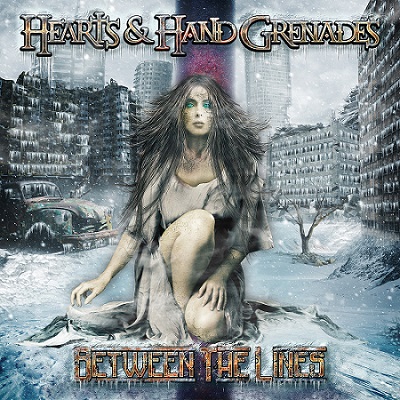 HEARTS & HAND GRENADES
Titel: BETWEEN THE LINES
Spieldauer: 40:52 Minuten
Nicht einmal ein Jahr nach der Veröffentlichung des Debüts "Turning To Ashes" Anfang Januar 2021 kommt mit "Between The Lines" bereits der ambitionierte Nachfolger der US-amerikanischen und offenbar sehr produktiven Hardrocker HEARTS & HAND GRENADES um die Ecke. Diese überzeugen vor allem mit einem rohen, rockigen, modernen Stil und Sound sowie mit der Rockröhre ihrer Frontfrau Stephanie Wlosinski.
So entstehen eindringliche Songs mit ernsten Texten über emotionale Ausnahmesituationen, persönliche Enttäuschungen und Schmerzen, aus denen man lernen und an denen man wachsen kann. Und das genauso bei groovigen Hardrocknummern wie dem Titelsong oder modernen Rockhymnen wie dem Opener 'Scream It Out' oder dem grandiosen 'Bad Medicine'.
Besonders nachdrücklich und emotional wird es, wenn das Tempo etwas herunter- und Melancholie aber auch Härtegrad sowie Energielevel weiter nach oben -gefahren werden. So beim gefühlvollen 'Beautiful Pain' und beim abschließenden, beinahe schleppenden, aber umso aufwühlenderen 'Moonlight'.
Fazit: "Between The Lines" ist ein starker Dreher mit modernem Hardrocksound, fesselnden weiblichen Vocals und zehn energetischen, kraftvollen Tracks, die unter die Haut gehen.
Michael Gaspar vergibt 7,5 von 10 Punkten