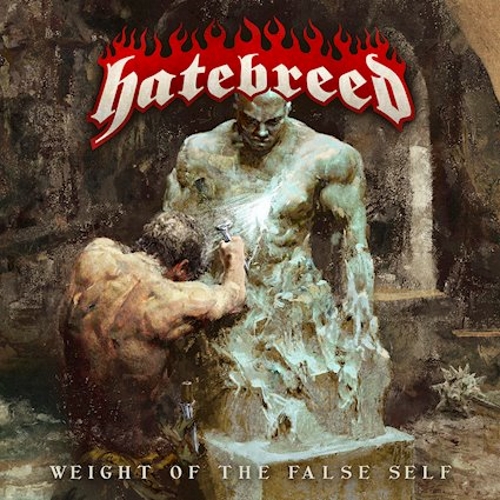 HATEBREED
Titel: WEIGHT OF THE FALSE SELF
Spieldauer: 36:27 Minuten
HATEBREED sind an und für sich in einer ausgesprochen komfortablen und privilegierten Lage. Ähnlich wie bei AC/DC erwartet der devote Fan bei HATEBREED keine musikalische Weiterentwicklung oder Selbstverwirklichung in Form von progressiven Songstrukturen und Schwenks in genrefremde Gefilde.
Wer sich eine neue HATEBREED-Platte zu Gemüte führt, erwartet das, was die Jungs um Jamey Jasta am Allerbesten beherrschen, und was sie auch Nachts um 4:00 Uhr geweckt aus dem Pyjama-Ärmel schütteln: Im Falle von 'Weight Of The False Self' 12 Songs, die Dir mit Anlauf das Knie in den Unterleib rammen, und von denen jeder Einzelne dazu befähigt ist, in der Livesituation einen eh' schon dampfenden Moshpit zum Überkochen zu bringen.
Auf dem mittlerweile achten Studioalbum (die Cover-Scheibe 'For The Lions' mal nicht mitgezählt) funktioniert dieses Muster wieder ohne Wenn und Aber. Vom Opener 'Instinctive (Slaughterlust)' bis zum Alles vernichtenden, slayeresken 'Invoking Dominance' wird die gesamte Klaviatur aus Aggression, Tempo und Breakdowns maßgerecht heruntergespielt. Als besonders geeignet für einen dauerhaften Live-Einsatz stechen dabei der Titeltrack sowie 'This I Earned' und 'The Herd Will Scatter' hervor. Lediglich das für HATEBREED-Verhältnisse fast schon melodische 'Cling To Live' weicht ein wenig von der stringenten Linie ab, die technische Umsetzung des recht simpel gestrickten Gitarrensolos (!) in diesem Track zeigt aber auch schonungslos auf, dass HATEBREED ihre Komfortzone besser nicht verlassen sollten.
Wenn man die Songtitel liest, ist einem sofort klar, dass sich auch textlich alles im gewohnten Terrain bewegt. Ja, und Jamey Jastas Vocalrange ist immer noch im Single-Note-Modus, aber wie gesagt, was Anderes will der HATEBREED-Freund auch garnicht hören.
'Weight Of The False Self' ist, wie jede HATEBREED-Scheibe, einfach nur verdammt gut.
Dirk Eckhard vergibt 9 von 10 Punkten