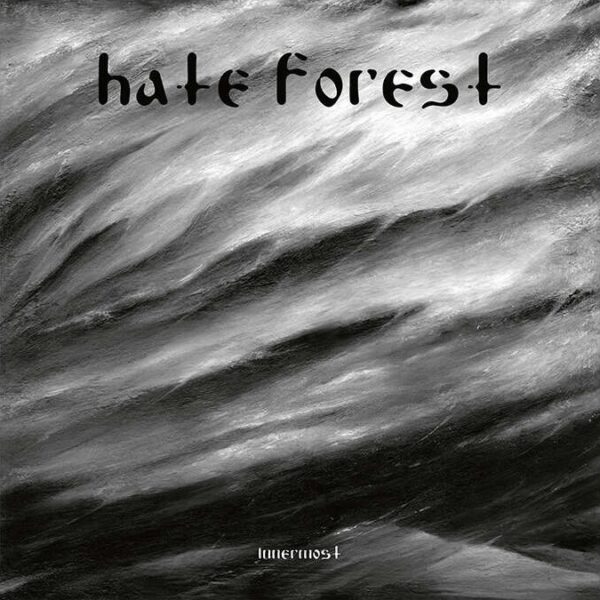 HATE FOREST
Titel: INNERMOST
Label: OSMOSE PRODUCTIONS
Spieldauer: 35:12 Minuten
VÖ: 21. Dezember 2022
Traditioneller Black Metal, wie er Anfang und Mitte der 1990er zum größten Teil zelebriert wurde, ist heutzutage eher die Ausnahme. Daher ist es erfrischend mit HATE FOREST eine Band zu hören, die diese Tradition noch pflegt, gleichzeitig aber nicht altbacken daherkommt oder klingt. Sie konservieren die Errungenschaften der Neunziger auf "Innermost" auf ihre eigene Art und Weise. Damit legen die Ukrainer ihren bislang sechsten Longplayer vor und bleiben ihrer bisherigen Linie und ihrem musikalischen Anspruch treu.
HATE FOREST schaffen hyperschnelle, vorwiegend skandinavisch geprägte Black Metal Oden. Sie schaffen das musikalische Bild im Kopf, wie eine karge, kalte und menschenfeindliche Landschaft aussehen mag. Einige akustische Klangtupfer lockern das misanthropische Gehacke auf. Stimmlich wird eher kehlig-guttural gegrowled denn krächzend intoniert. Die Songs bleiben alle auf gleich hohem Niveau, sie sind intensiv, einnehmend, schwarz und brutal. 'Temple of the Great Eternal Night' entpuppt sich als reines Instrumentalstück, hier wechseln sich akustische Gitarren mit wildem Black Metal und erschaffen ein spannendes akustisches Martyrium.
Auch wenn der Sound von HATE FOREST sehr eintönig ist kann ich keine Momente der Langeweile in den 35 Minuten Schwarzstahl feststellen. Ein stimmiges, negatives und zerstörerisches Black Metal Album wurde hier geschaffen. Anmachen und genießen.
Ingo Holzhäuser vergibt 8 von 10 Punkten