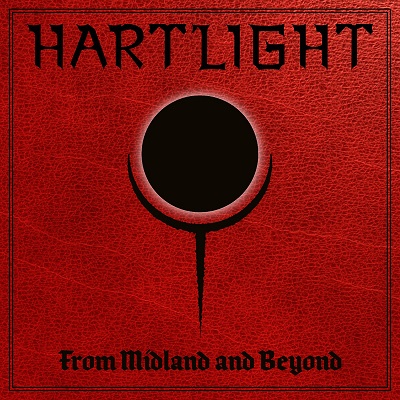 HARTLIGHT
Titel: FROM MIDLAND AND BEYOND (EP)
Label: WORMHOLEDEATH RECORDS
Spieldauer: 18:28 Minuten
VÖ: 16. Dezember 2022
Musikduo und Lebensabschnittsgefährten in einem und momentan mit den Arbeiten an einem gemeinsamen Debütalbum beschäftigt ist die Schweizer Metalband HARTLIGHT. Die beiden Künstler eint neben der Liebe zueinander die Passion für Musik, Animes, Mangas und Videospiele.
Zunächst veröffentlichen Sängerin Noémie Allet (Vocals, Songwriting, Lyrics) und Multi-Instrumentalist Adrien Djouadou (Gitarre, Bass, Drums, Backings, Arrangements) aber den Four-Tracker "From Midland And Beyond".
Soundtechnisch decken die beiden Künstler einen viel zu selten anzutreffenden Stil ab, nämlich kraftvollen, ernstzunehmenden Power Metal mit wenigen symphonischen Elemente und packenden weiblichen Vocals.
Der Opener `The Merrow's Chant´ beginnt mit Meeresrauschen und bedient mit seinem schmissigen Rhythmus und den üppigen Chören ein wenig die hymnische Piraten Metal Schiene. Es schließt sich der Ohrwurm `Be Blessed´ an, der mit Eingängigkeit, symphonischen Elemente und einem packenden Gitarrensolo punktet.
`The Eclipse´ startet mit einer fiesen Monsterlache und dem Durchladen einer Schusswaffe, was für eine dunkel-bedrohliche Stimmung sorgt. Der dynamische Song wechselt zwischen langsamen, fast doomigen Passagen und flotten Parts.
Die hohen, ein wenig pathetischen Vocals und üppige Orgelklänge sorgen für eine gewisse Phantom der Oper/Tanz der Vampire Ästhetik, bevor das schnelle `Into the Realm of the Elves´ eine gelungene, abwechslungsreiche und vielversprechende EP wieder mit eingängigem, melodischen Power Metal abschließt.
Michael Gaspar vergibt 7,5 von 10 Punkten