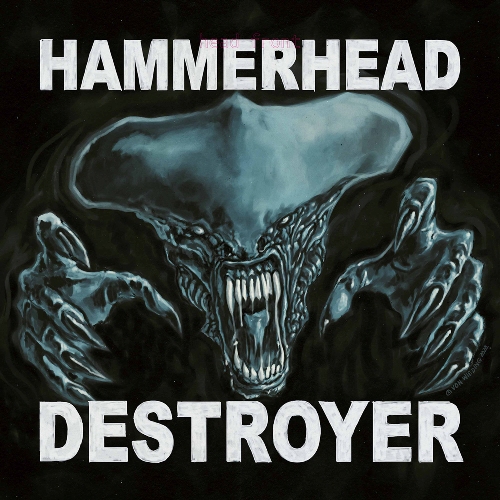 HAMMERHEAD
Titel: DESTROYER
Spieldauer: 43:00 Minuten
Von dem mir gut einem Dutzend bekannten Bands namens HAMMERHEAD handelt es sich bei dieser High Roller Scheibe um die New Wave of British Heavy Metal Kapelle aus Cumbria, welche schon zu Beginn der NWoBHM im Jahr 1978 gegründet worden ist.
Wie so häufig bei semi-legendären Bands gab es damals lediglich 2 Demos, 1 Single und einen Compilation Beitrag. Erst nach ihrer letzten Reunion 2005 zeigten sich HAMMERHEAD produktiver und veröffentlichten zwei Longplayer, die aber eher mäßige Beachtung fanden.
High Roller bringen mit dem aktuellen "Destroyer" Longplayer nun eine Compilation heraus, auf denen die alten Songs in recht frühen, ungebügelten Versionen veröffentlicht werden. Hier seien natürlich exemplarisch die bekanntesten Tracks 'Devil's Soldier', ein flotter Rocker, und das erst schleppende, dann Tempo machende und melodische  'Lochvinar' genannt. Dieser Track ist übrigens in der Demo Version und der Compilation Version zu hören; beides sehr gelungen. Aber auch Tracks wie das melodisch rockende 'I'll Be Back' – leider ohne Arnie Gastauftritt – und  das hymnische 'Lonely Man' sollten nicht unerwähnt bleiben, welche mit den Ozzy ähnlichen Vocals Hodgons ihren eigenen Charme entwickeln.
Für Fans der NWoBHM ist diese Compilation ein Fest, aber auch sonstige Trad Metaller sollten ein Ohr riskieren.
Ludwig Lücker vergibt 7,5 von 10 Punkten