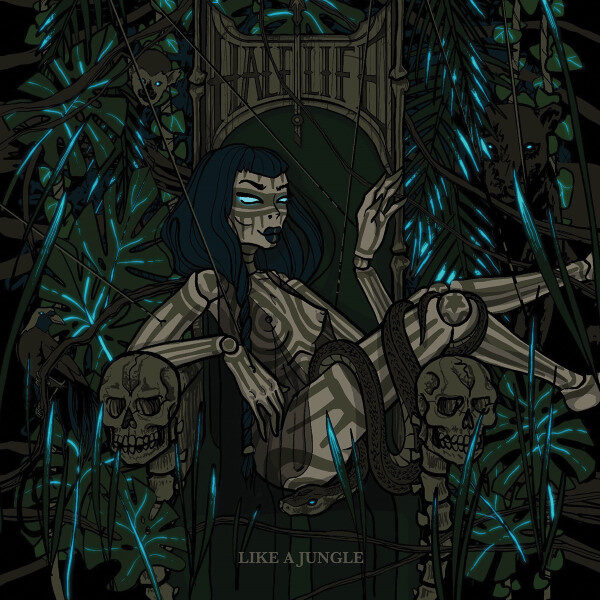 HALF LIFE
Titel: LIKE A JUNGLE
Label: CLUB INFERNO ENTERTAINMENT
Spieldauer: 36:15 Minuten
VÖ: 20. Januar 2023
"Like A Jungle" nennt sich das Debütalbum der italienischen Band HALF LIFE, deren erstes musikalisches Lebenzeichen eine selbstproduzierte, rein digital veröffentlichte EP namens "I've Got To Survive" im Jahre 2019 war.
Auch wenn das Albumcover eher eine Stoner-Rock-Kapelle vermuten lässt, spielen HALF LIFE klassischen Heavy/Power Metal mit – gerade was die Gitarrenarbeit anbelangt – einigen Ausflügen in gemäßigte thrashige Gefilde. Auch wenn vereinzelt Einflüsse von Bands wie Maiden, Saxon, Gamma Ray oder Primal Fear rauszuhören sind, muss man den Römern attestieren, dass sie trotz altbewährter Zutaten musikalisch hörbar um eine eigenständige Geschmacksnote bemüht sind.
Alle acht Songs von "Like A Jungle" sind gut voneinander unterscheidbar und sowohl abwechslungsreich als auch in sich schlüssig und eingängig gehalten. Als Anspieltipps empfehle ich neben dem Opener das treibende 'Dance Of Madness', das thrashige 'The Enemy Inside' sowie 'Rearrange', dessen kanonartiger Refrain durchaus noch einige Zeit im Ohr hängenbleibt.
Sänger Alessandro Minervini lässt sich stimmlich irgendwo zwischen Biff Byford (Saxon) und Ralf Scheepers (Primal Fear) einordnen, erreicht zwangsläufig nicht deren Klasse bzw. Wiedererkennungswert, macht auf "LIke A Jungle" aber einen wirklich ordentlichen Job.
Die druckvolle, transparente Sound des Albums ist definitiv über dem üblichen Underground-Niveau und gefällt mir persönlich besser als viele Produktionen manch etablierter Bands.
Von richtigen "Hits" und einem dauerhaften Wiedererkennungswert sind HALF LIFE zwar noch ein gutes Stück entfernt, liefern mit "Like A Jungle" aber ein absolut amtlichen und hörenswerten Einstand mit erkennbar vorhandenem Steigerungspotenzial ab. In kleineren Klubs kann die Band mit solchen Songs jetzt schon für ordentlich Furore sorgen – spätestens dort würde ich mir die CD allein schon aus Sympathie abgreifen und rein subjektiv noch einen Punkt mehr vergeben.
Joe Nollek vergibt 7 von 10 Punkten