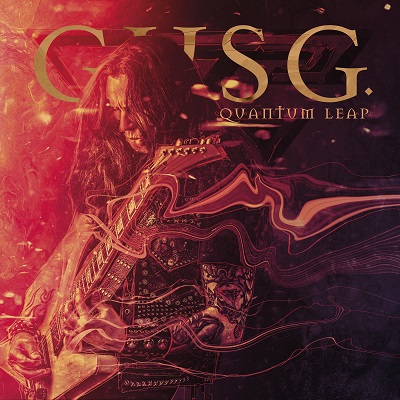 GUS G.
Titel: QUANTUM LEAP
Spieldauer: 77:04 Minuten
Das einzige komplett instrumentale Gitarristen-Album in meinem Besitz ist die 1993er Doppel-CD "Time Machine" von Joe Satriani, die ich damals sogar fälschlicherweise doppelt käuflich erworben habe. Und dass nur, um nun fast dreißig Jahre später festzustellen, dass es sich gar nicht um einen neuen Output, sondern um eine Kombination aus Raritäten, B-Seiten und einer Live-Aufnahme gehandelt hat.
Ein reines Gitarristen-Album habe ich mit "Quantum Leap", der neuesten, dritten Soloscheibe des griechischen Saitenhexers GUS G. (bürgerlich: Konstantinos Karamitroudis), nun also wieder vor mir. Wie schon beim Vorgänger "Fearless" besteht das weitere Lineup nach wie vor aus Bassist Dennis Ward (Pink Cream 69, Unisonic, Firewind) und Drummer Will Hunt (Evanescence).
Bei einem reinen Gitarrenalbum besteht ja immer die Gefahr, dass es zu einer reinen Werkschau oder einem einstündigen Solo verkommt. Das sehe ich aber bei "Quantum Leap" nicht, denn die elf Tracks beinhalten recht viel Abwechslung und Dynamik. Mir persönlich gefallen die eher ruhigen, hymnischen, eingängigen Songs wie der Titeltrack, die hitverdächtige Vorabsingle 'Enigma Of Life' und das dann wirklich "Satriani-esque" 'Not Forgotten' am besten.
Aber auch für Fans, die es etwas proggiger mögen, ist mit dem Opener 'Into The Unknown' und dem treibenden 'Chronesthesia' bestens gesorgt. Zudem rahmen zwei echte Power Metal Songs wie 'Judgement Day' und 'Demon Stomp' den wohl härtesten Track 'Fierce' hochkarätig ein.
Hochklassiger Output, der durch eine Bonus-Live-CD zusätzlich aufgewertet wird. Diese beinhaltet ausschließlich Versionen mit Gesang, was für zusätzliche Abwechslung sorgt. Darauf stehen neben dem Thin Lizzy Cover 'Cold Sweat (Live)' fünf Tracks vom letzten Studioalbum "Fearless". Darunter befindet sich mit 'Money For Nothing (Live)' eine weitere Coverversion (Dire Straits). Der Song 'Force Majeure', ein packendes Duett mit Ufo-Gitarrist Vinnie Moore, ist sowohl auf der regulären Scheibe als auch in der Live-Version enthalten.
Michael Gaspar vergibt 8 von 10 Punkten