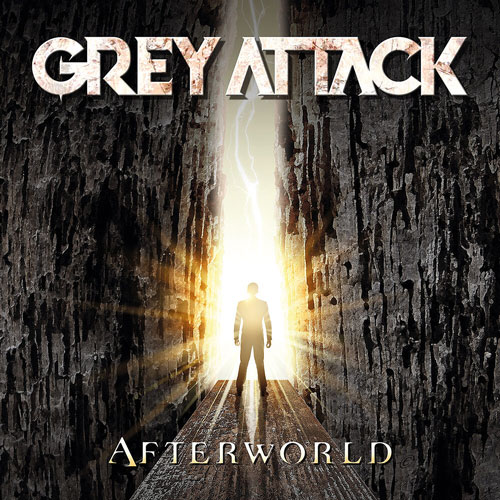 GREY ATTACK
Titel: AFTERWORLD
Label: METALAPOLIS RECORDS
Spieldauer: 48:27 Minuten
VÖ: 01. September 2023
"Afterworld" ist das dritte Album der Aachener Hardrock-Band GREY ATTACK, das in Eigenregie bereits Anfang 2022 veröffentlicht wurde, jetzt aber mit den beiden guten Vorgängern noch einmal durch Metalapolis Records rausgebracht wird.
Den Stil von GREY ATTACK zu beschreiben, ist wirklich nicht ganz einfach. Grob kann man den Sound der Band als "sphärischen bis epischen AOR-Rock, bei dem sich moderne wie klassische Rock-Elemente die Waage halten" bezeichnen. Dass die Band laut Labelinfo schon für Acts wie Bonfire, Y&T, Freedom Call (?), Loudness (!!) und sogar Robin Beck (!!!) eröffnet hat, sagt schon einiges – und irgendwie wieder nichts.
Das dramatische Intro geht fließend in den episch-stampfenden Titelsong 'Afterworld' über, der tatsächlich irgendwie Einflüsse von klassischem Southern Rock bis hin Grunge á la Alice in Chains stimmig vereint. Danach gehen zahlreiche Songs wie 'Simple Life' und 'My Last Dance', 'Lost' und 'Let's Love That Life' flotter und abwechslungsreicher irgendwo zwischen eingängigem Independent und leicht progressiven Hardrock ab.
Beim geilen 'Change Your Mind' drücken GREY ATTACK mal richtig aufs Gas. Nicht repräsentativ, aber mein persönlicher Hit des Albums – sorry, bin halt ein kleiner Speedfreak. Danach dominieren wieder episch-sphärische Rocker wie 'Where I Belong', 'The End' und 'I Still Can Fly', bei denen man von Zeppelin und Purple über Scorpions und Alice In Chains bis hin zu Dream Theater alle möglichen Einflüsse anführen könnte.
Insgesamt ist "Afterworld" ein absolut spannendes Album geworden, das stilistisch halt zwischen einigen Stühlen sitzt. An ihren saustarken und etwas eingängigeren Vorgänger "Grains Of Sand" kommen GREY ATTACK mit "Afterworld" nicht ganz, aber immerhin fast ran. Fans aller oben genannten Bands und Stilrichtungen sollten unbedingt mal einige Scheuklappen ablegen und ein Ohr riskieren.
Joe Nollek vergibt 7,5 von 10 Punkten