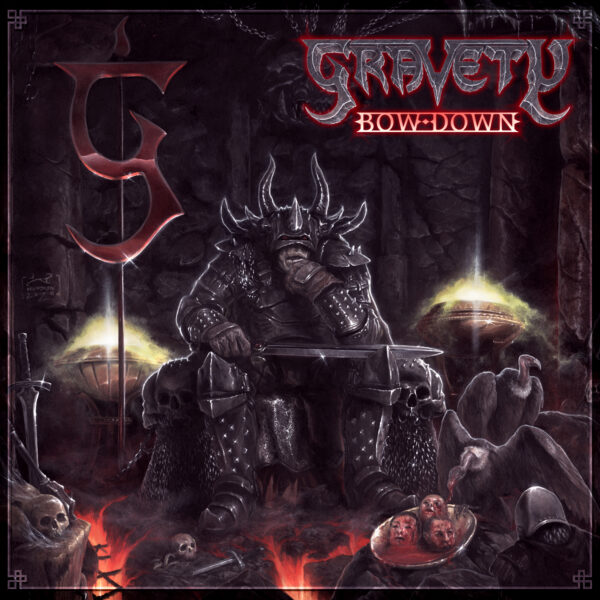 Eigentlich schienen die Saarbrücker GRAVETY der Vergangenheit anzugehören, nachdem man sich nach dem 2012er-Debüt "Into The Grave" und den darauffolgenden Shows in alle Himmelsrichtungen voneinander verabschiedet hatte. Doch als vor zwei Jahren der mächtige Cryptor aus den Tiefen der Saar emporstieg, wo er durch einen Fluch gefangen gehalten war, machte er die kräftigen Schwertschwinger um Frontritter Kevin Portz zu seiner Leibgarde.
Und so bewaffnete man sich mit Gitarren, Drumsticks und Mikro, um in Gitarrist Gernot Gebhards Studio einzuziehen und endlich das zweite Album einzuspielen. Der Titel "Bow Down" ist nichts anderes als ein Befehl und der spektakuläre Videoclip dazu zeigt eindrücklich, worum es bei GRAVETY geht: Die Jungs wollen ihre Hörer in eine Fantasy-Welt entführen, in der heldenhafte Krieger gegen das Böse kämpfen und in der das Gute schlussendlich immer obsiegt. Soviel zur Vorgeschichte und dem Mythos der GRAVETY umrankt.
Musikalisch treten die Saarländer in die Fußstapfen ihrer Landsleute von Atlantean Kodex, freilich ohne deren Championsleague-Status zu erreichen. Gleichwohl machen die Jungs ihre Sache wirklich sehr überzeugend. Man merkt bei jedem Ton, dass ein riesiges Metalheart in der Brust dieser Truppe pocht, vor allem Kevin intoniert seinen majestätischen Gesang voller Inbrunst und verleiht den sieben Songs (plus Intro) ihren episch-elegischen Charakter. Dabei deutet er seine enorme Range zum Beispiel beim hellen Schrei in 'Red Mountain' allenfalls an; nicht auszudenken, was noch in dem Kerl steckt.
Auch die Gitarrenfraktion brilliert mit feinen Harmonien und Leads, so wie in 'Tales From The Fallen'. Die Highlights dieses Eisens sind mit dem eröffnenden Titelstück, der Hymne 'Braveness Beyond Fear' in der Mitte und dem Gänsehautschlusspunkt 'Carry On The Flame' sehr geschickt über das ganze Album verteilt, wobei das Niveau insgesamt so hoch ist, dass kein einziger Ausfall zu beklagen ist. In diesem Sinne: Carry on the flame, lads!
Alex Fähnrich vergibt 8,5 von 10 Punkten