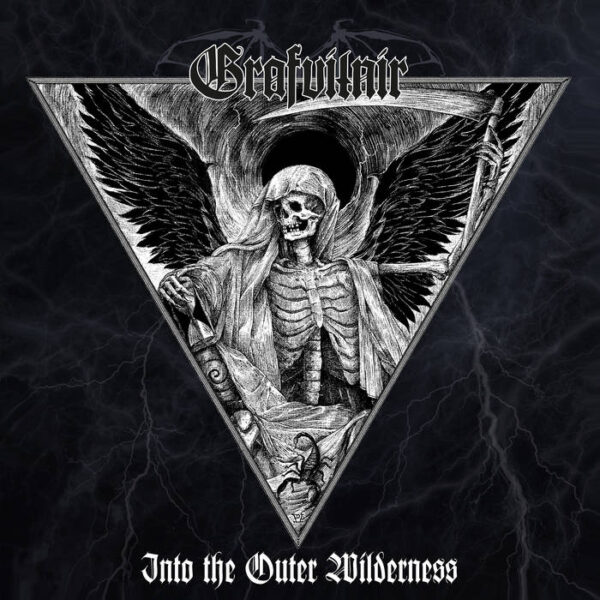 GRAFVITNIR
Titel: INTO THE OUTER WILDERNESS
Spieldauer: 43:03 Minuten
VÖ: 30. Juni 2023
Erst vor Kurzem hatte ich die Vinylausgabe des Vorgängers Tunes of Sitra Ahra  in der Post, da flattert auch schon die Promo zur neuen Scheibe der schwedischen Black Metal Band GRAFVITNIR rein. "Into the outet wilderness" nennt sich das mittlerweile neunte Album und wird bei dem renommierten Label Regain Records veröffentlicht.
GRAFVITNIR erzeugen abermals okkulten und brutalen aber gleichzeitig melodiösen Black Metal. Die heisere Keifstimme, die beißenden Gitarren und blastigen Drums sind hervorragend in Szene gesetzt. Abermals muss man dazu sagen, denn das Qualitätslevel bleibt auch auf dieser Scheibe enorm hoch. Gerade das Schlagzeugspiel ist phantastisch und hebt das gute Songwriting auf ein noch höheres Level. Auch wenn GRAFVITNIR in einem recht engen stilistischen Korsett arbeiten, schaffen sie Atmosphäre, Abwechslung und genügend Spannung in ihren Kompositionen. Vor allem sind es aber diese flirrenden, schwarzen Harmonien, die in dem Gehacke enthalten sind und es so unfassbar düster wirken lassen. Eine transparente sowie ausbalancierte Produktion bringt gerade das bereits erwähnte Drumming perfekt in Szene ohne den Rest in den Hintergrund zu drängen.
Alles in allem eine hervorragende Scheibe, die den tradierten Sound der Schweden nur unwesentlich erweitert, nuanciert neue Elemente einbringt und immer wieder pointiert das Urwüchsige, Schwarze und Okkulte herausstellt. Daumen hoch für GRAFVITNIR!
Ingo Holzhäuser vergibt 9 von 10 Punkten