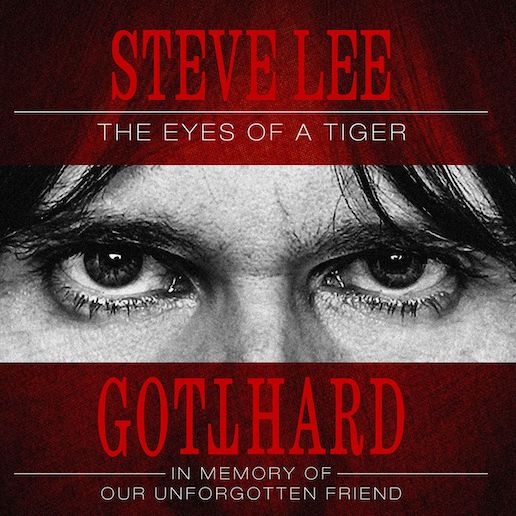 GOTTHARD
Titel: STEVE LEE – THE EYES OF A TIGER: A GOTTHARD TRIBUTE TO OUR UNFORGOTTEN FRIEND
Spieldauer: 54:08 Minuten
Der komplette Titel: "Steve Lee – The Eyes Of A Tiger – A Gotthard tribute to our unforgotten friend!" macht klar worum es GOTTHATD mit dieser Platte geht. Heute, am 05. Oktober ist der zehnjährige Todestag des unvergessenen GOTTHARD-Sängers Steve Lee, der bei einem tragischen Motorradunfall ums Leben kam.
Die Band erinnert und verneigt sich mit diesem Album vor ihrem ehemaligen Sänger Mit elf   stripped-down Versionen von bekannnten Songs, die noch von Steve Lee gesungen wurden.
Neben dem titelgebenden Rocky Song, der in Akustik und in einer elektrischen und entsprechend kraftvolleren Version, auf dem Album vorhanden ist, sind Songs von verschiedenen Veröffentlichungen in ruhigen akustischen Versionen festgehalten worden. Klassiker wie das noch recht rockige "Hush", insbesondere aber die Balladen "Heaven" oder auch "Let It Be" klingen, als seien sie extra für diese Versionen gemacht worden und verfügen über den entsprechenden und hervorragend gelungenen "Lagerfeuer-Faktor" im besten Sinne des Wortes. Im Vordergrund steht dabei natürlich immer die Stimme von Steve Lee, die von den Instrumenten eher untermalt und getragen wird. Passt wie die Faust auf Aüglein und zieht sich als Grundstimmung durch das komplette Album. Selbst das rockige 'Lift U Up' funktioniert auf diese Weise erstaunlich gut.
"Steve Lee – The Eyes Of A Tiger: In Memory Of Our Unforgotten Friend!" ist ein nicht zu  melancholisches Album, das seinem Namen und dem verstorbenen Frontmann alle Ehre macht und für Kamin- oder halt Lagerfeuerabende die richtige Untermalung bietet.
Sven Bernhardt vergibt keine Bewertung