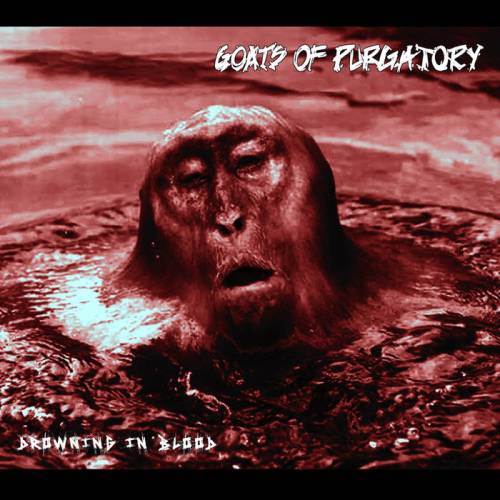 GOATS OF PURGATORY
Titel: DROWNING IN BLOOD
Spieldauer: 30:28 Minuten
VÖ: 22.2.2022
Der Bandname GOATS OF PURGATORY zeugt jedenfalls schon mal davon, dass die Jungs aus Kölle 'nen gewissen Sinn für Humor haben, denn wer da nicht automatisch an den unerreichten Klassiker Running Wild's denkt, der sollte das Wort Metal nicht mehr in den Mund nehmen.
Wobei die Parallelen zu den Hanseaten musikalisch nicht wirklich gegeben sind. GOATS OF PURGATORY versuchen zwar auch mit "simplen" Mitteln, sprich ohne in musikalische Onanie zu verfallen, knackige Songs zu kreieren, verwenden dabei aber eher harsches Riffing, was ebenso von einer Band wie S.O.D. oder dem Industrial Metal beeinflusst zu sein scheint. Dies wird durch eine schon fast zu klinische Produktion noch leicht begünstigt.
Wer allerdings bei der Mucke seinen Spass haben und einfach mit bangen möchte, der sollte sich mal Tracks wie den nach einem ruhigen Einstieg zwischen speedigen Geprügel und fetten stampfenden Rhythmen wechselnden 'The Essence Of Evil', dem zwischen Speed und Mid Tempo springenden 'Rot In Hell' – vom zweiten Demo -, dem überwiegend pumpenden, mit schleppenden Passagen entzerrten Titeltrack 'Drown In Blood', dem von Stakkato Riffs unterlegten 'Demonized' oder dem stampfenden, mit einprägsamen Refrain versehenen 'One Goat Army' – geiler Titel übrigens – rein pfeifen.
Auch wenn hier noch nicht jeder Track zündet, macht die Truppe aus Kölle echt Bock; oder eher Goat……
Ludwig Lücker vergibt 7,5 von 10 Punkten