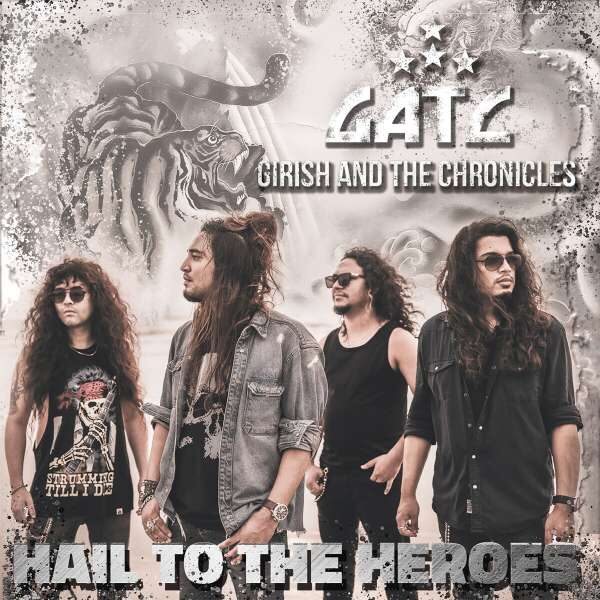 GIRISH AND THE CHRONICLES
Titel: HAIL TO THE HEROES
Spieldauer: 48:53 Minuten
VÖ: 11. Februar 2022
Ein weiteres hardrockendes Kleinod des noch jungen Jahres (wo soll das eigentlich noch hinführen) erreicht uns aus dem fernen Indien. Nach ihrem Debüt "Back On Earth" (2014) und dem Zweitling "Rock The Highway" (2020) stellen GIRISH AND THE CHRONICLES ihr drittes Full-Length-Werk "Hail To The Heroes" in die Läden.
Dabei steht das Quartett in der Tradition des 80er Hardrock/Melodic Rock/Heavy Metal, voraus man allerdings seine ganz eigene Mixtur kreiert und ins musikalische Hier und Jetzt transportiert. Vom rifforientierten In-Your-Face-Kracher über eingängige Hymnen bis zu wunderschönen Balladen ist hier alles vertreten.
Es überwiegt jedoch der Metalanteil, so dass man beim Hören der neuen Tracks vermehrt an Acts wie Guns'n'Roses, Skid Row, AC/CD, Airbourne, Maiden oder Judas Priest denkt. All das wird vor allem von Sänger Girish Pradhan grandios umgesetzt.
Los geht es mit dem hochenergetischen Dreierpack aus `Primeval Desire`, `Children Of The Night` und `I'm Not The Devil`, bevor der ruhigere Ohrwurm `Love's Damnation` für ein wenig Verschnaufen aber auch einen ersten Mega-Glanzpunkt sorgt.
Die balladeske, sich zu einer wahren Hymne steigernde Auskopplung `Lover's Train` ist ein weiterer, bevor der fantastische, vielseitige Titeltrack gleichsam das Herzstück und den Höhepunkt der Scheibe markiert.
Die sechsminütige Mega-Ballade `Heaven's Crying` mit ihrem perfekten Zusammenspiel und Harmonie zwischen Instrumental- und Vokalfraktion steht dem allerdings kaum nach, bevor das flotte `Rock'n'Roll Fever` mit den Gästen Drummer Chris Adler (Ex-Megadeth, Ex-Lamb of god), LA-Gitarrist Hugh Myrone (Rock Of Ages) und dem englischen Saitenhexer Rowan Robertson (u. a. Dio) einen ganz, ganz starken, abwechslungsreichen Silberling einer mega-talentierten Band würdig abschließt.
Michael Gaspar vergibt 8,5 von 10 Punkten