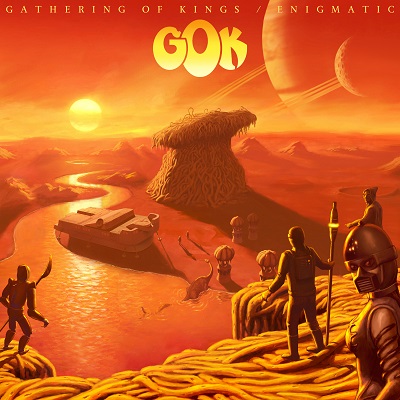 GATHERING OF KINGS
Titel: ENIGMATIC
Spieldauer: 53:13 Minuten
VÖ: 29. Juli 2022
GATHERING OF KINGS ist ein elfköpfiges Projekt/Kollektiv schwedischer Musiker aus der Hardrockszene nach dem Vorbild von beispielsweise Tobias Sammet´s Avantasia mit mehreren Sängern und Instrumentalisten.
Unter den Künstlern befinden sich unter anderem die fünf Sänger Jonny Lindkvist (Nocturnal Rites), Rick Altzi (At Vance, Herman Frank, Masterplan), Apollo Papathanasio (Firewind, Spiritual Beggars), Tobias Jansson (Saffire) und Alexander Frisborg sowie Songwriter, Gitarrist und Produzent Victor Olsson. Die Anfang der 90er gegründete Band bietet auch auf ihrem dritten Longplayer "Enigmatic" 80er AOR/Melodic Rock der eher gediegenen Art.
Die dreizehn Songs präsentieren klassischen, melodischen Hardrock mit viel traditioneller Synthiepower und fließenden Gitarrensoli. Das gute Songwriting und die verschiedenen Sänger sorgen für viel Abwechslung, kein Song ist wie der andere.
Nach dem kurzen Intro geht es mit dem Ohrwurm ` Vagabond Rise´ eher AOR-lastig los, bevor `Here Be Dragons´ kurz Richtung Power Metal schielt und der eingängige Rocker `Firefly` mit Hammerchorus überzeugt.
`How The Mighty Have Fallen´ glänzt mit einer tollen, im Vordergrund stehenden Key-Lead-Melodie und viel Drum-Power und auch die Ballade `A Rainbow And A Star´ kann sich hören lassen. Ebenso wie das hymnische `The Prophecy´ mit erneut packendem Refrain.
Die beiden Sängerinnen Nanne Grönvall und Maria Rådsten sowie Keyboarder Peter Grönvall (der Sohn von ABBA´s Benny Andersson) von der schwedischen Popgruppe One Moro Time sind bei `Feed You My Love´ mit von der Partie, umspielen und ergänzen "Hauptsänger" Jonny Lindqvist und geben der Nummer einen cathy-poppigen Anstrich.
Erwähnt werden soll außerdem noch die packende und kaum minder eingängige Hymne `Clone Trooper´ und das ebenfalls mitreißend-intensive `Lionheart´. 'Dies alles macht "Enigmatic" zu einer weniger rätselhaften, sondern klar strukturierten, stimmigen und durchweg überzeugenden Rock-Scheibe.
Michael Gaspar vergibt 9 von 10 Punkten