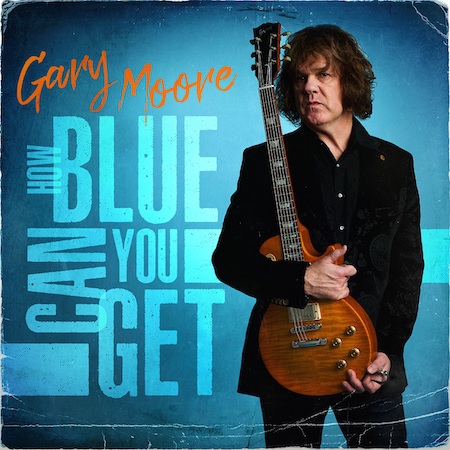 GARY MOORE
Titel: HOW BLUE CAN YOU GET
Spieldauer: 44:20 Minuten
Wie immer bei posthumen Alben stellt sich die Frage, ob die "Nachtot-Veröffentlichung" denn nun eine echte Bereicherung für den geneigten Fan ist oder ob ein Label da Leichenfledderei betreibt. So natürlich auch bei "How Blue Can You Get", auf dem sich acht von GARY MOORE eingespielte Stücke befinden, die zu Lebzeiten des noch immer verehrten Thin Lizzy und Solo Gitarren-Großmeisters nicht auf Alben zu finden waren.
Wie aus den vorab ausgekoppelten Singles schon klar wurde, hatte Gary definitiv den Blues als er die verschiedenen Songs einspielte. Folgerichtig gibt es auf dem Album durchgängig den von ihm gewohnt gefühlvollen und hochklassig gespieltem Blues(-Rock). Kenner werden das schon am Titel festmachen können, "How Blue Can You Get", ist ein reines Bluesalbum mit vielen Covern, denn der Titelgeber ist eine kraftvolle siebenminütige Version des B.B. King Songs von 1964. Der Opener, das ausgekoppelte 'I'm Tore Down' stammt ebenfalls von einem der ganz Großen im elektrischen Blues: Freddie King. Mit dem reinen instrumental Track 'Steppin' Out' folgt eine bis dato unveröffentlichte Version von Memphis Slim und auch 'Done Some Wrong' von Elmore James huldigt Garys Idolen im Blues.
Dass es bei dem Album hauptsächlich um Coverversionen handelt, könnte natürlich ein nachvollziehbarer Grund sein, dass sie zuvor nicht ans Tageslicht kamen, denn an der Qualität kann es kaum liegen. Auch die der Eigenkompositionen. 'In My Dreams' scheint eine frühere oder alternative Form des Songs 'Still Got The Blues' zu sein, der später zur Hitsingle wurde. Und auch 'Living With The Blues' zeigt MOOREs balladeske und tief bewegende und melancholische Seite, wie man sie immer von ihm kannte.
Letztlich stellt sich mir die eine Frage: Was soll ich als Mensch ohne Blues-Expertise sagen außer: "How Blue Can You Get" ist sicher ein schönes Geschenk für alle Blueser unter GARY MOORE-Fans und für Komplettisten. Eine Bewertung gibt es aber logischerweise von mir nicht.
Sven Bernhardt vergibt keine Bewertung