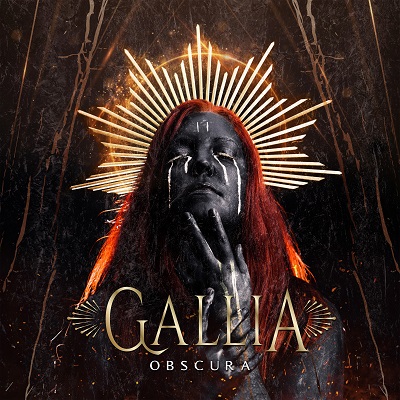 Label: INDEPENDENT RELEASE
Spieldauer: 51:34 Minuten
VÖ: 02. September 2022
Die belgischen Symphonic Metaller GALLIA stellen ihren Debüt-Longplayer "Obscura" vor. Das Quartett wurde 2014 gegründet und hat bisher die EP "Everflame" (2019) veröffentlicht.
Der Metalsound der Gruppe verfolgt einen cineastisch-symphonischen Ansatz, wobei die beiden ersten Songs `Return Of Time´ und Blackout Queen´ nach dem kurzen Intro `Aperture´ eher simple Tracks mit stampfenden Beats und eingängigem Modern Melodic darstellen.
Nicht schlecht, aber im Folgenden werden die Kompositionen deutlich stimmiger, komplexer, vielseitiger und länger. Als erstes haut mich `Path Of The Nomad´ mit seiner Atmosphäre und seinem Hammerchorus aus den Socken.
Nach dem rein instrumentalen Interlude `Free Me´ folgt mit dem folkig angehauchten, tänzerischen `Spirit Of The Sea´ der nächste Kracher mit teilweise ätherischen Klängen und kraftvollem Abschluss. Das ein wenig sperrige `Chaos´ kombiniert dann hartes Riffing mit symphonischem Bombast, intensiver Stimmung und fulminanten Chören, bevor `Euphoria´ indische Klänge aufs Tapet bringt und mit packenden Melodien und einem guten Refrain verbindet.
Der Glanzpunkt der Scheibe ist der episch dichte Siebeneinhalbminüter `Tears Of Gold´. Danach sorgt das leise startende `New World´ mit seinem bombastischen Ende für den grandiosen Abschluss eines guten Debüts mit leichten Schwächen, einem durchwachsenen Start, aber einer großen Menge Potential wie einige Hochkaräter unter den Kompositionen beweisen.
Michael Gaspar vergibt 8 von 10 Punkten