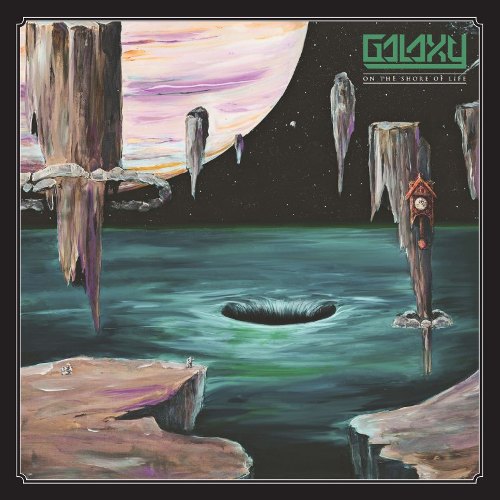 GALAXY
Titel: ON THE SHORE OF LIFE
Label: DYING VICTIMS PRODUCTION
Spieldauer: 38:15 Minuten
Die australischen Metalheads von GALAXY kredenzen uns ihre Mischung aus den Bereichen des traditionellen Metals und des eher melodischen Power Metals, der über die gesamte Spielzeit auch einen gewissen hymnischen Charakter an den Tag legt.
Die erst im Jahre 2017 gegründete Band legt mit "On The Shore Of Life" ihr Debüt Langeisen vor, es gab im Jahre 2019 lediglich eine EP als erstes Lebenszeichen zu vermelden.
Die Kombination beider Stile gelingt der Band eigentlich recht gut und mit dem melodischen, mittelhoch bis hoch gelegenen Vocals von Phillip T. King passt dies auch gut zusammen.
Allerdings ist die Produktion relativ dünn und der Scheibe mangelt es an gerade in diesem Metier so extrem wichtigen Ohrwürmern. Man kann im Umkehrschluss aufgrund des Mangels an wirklichen Stinkern allerdings auch von einer gleichbleibend ordentlichen Qualität sprechen.
Anyway, als Anspieltipp kann ich euch wenigstens den nach fettem Einstieg im Mid Tempo walzenden und zum Ende hin sich im Tempo steigernden Titeltrack 'On The Shore Of Life' ans Herz legen, der etwas aus dem Album heraus sticht.
Alles in Allem für eine Debüt Scheibe eine mehr als ordentliche Angelegenheit, der lediglich die "Hits" fehlen, um sich auf Dauerrotation im Player fest zu setzen.
Ludwig Lücker vergibt 7 von 10 Punkten