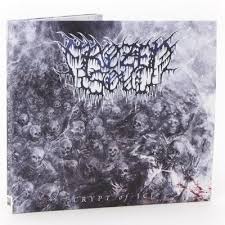 FROZEN SOUL
Titel: CRYPT OF ICE
Label: Century Media/Sony
Spieldauer: 39:40 Minuten
Für Death Metal-Fans hat das Jahr 2021 schon mal gut begonnen. Mit den aus Fort Worth/Texas stammenden FROZEN SOUL hat Century Media nämlich einen dicken Fisch an Land gezogen und mit der Veröffentlichung von "Crypt of ice" ein erstes Ausrufezeichen gesetzt. Nach zwei Split-Veröffentlichungen in 2019 und 2020 ist "Crypt of ice" das Full Length-Debut der Amerikaner, die hier über 10 Songs mit einer Spieldauer von knapp unter 40 Minuten groovenden, dennoch knallharten und finsteren Death Metal klassischer Prägung zelebrieren.
Nach einem unheilvollen Intro bricht die Hölle unvermittelt mit dem Titeltrack über einem los. Gehobenes Midtempo bestimmt dann auch die nachfolgenden 'Arctic Stranglehold' und 'Hand of vengeance'. Parallelen zu frühen Six Feet Under in Höchstform werden wach, auch wenn FROZEN SOUL dunkler und härter klingen. Die Texaner haben ein Händchen dafür, die Songs trotz gemäßigten Tempos variabel zu gestalten, so sorgen eruptive Tempoverschärfungen wie in 'Merciless' für das notwendige Maß an Abwechslung. Im Gegensatz zu US-Kollegen wie z. B. Deeds of Fesh wird über die gesamte Laufzeit des Albums mithin nicht die Technikkeule geschwungen, sondern die Songs erzielen ihre Wirkung durch vergleichsweise simple, aber effektive Riffs des Gitarrenduos Michael Munday und Chris Bonner, gekrönt von gutturalen, aber immer noch zumindest im Ansatz verständlichen Vocals.
Abgerundet wird dieses erste Death Metal-Highlight des Jahres von einem tollen, druckvollen Sound und einem stimmigen Artwork. Vielleicht hätten zwei, drei durchgängig schnelle Songs eine noch höhere Bewertung ermöglicht, aber auch so müssen Old School Death Metal-Fans, die effektive und brutale Kost zu schätzen wissen, hier zugreifen. Die CD kommt als Digipak.
obliveon vergibt 8,5 von 10 Punkten