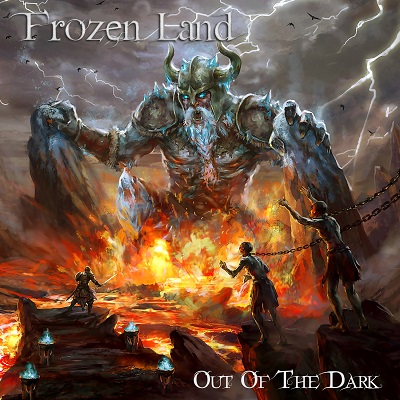 FROZEN LAND
Titel: OUT OF THE DARK
Spieldauer: 38:25 Minuten
VÖ: 16. Juni 2023
"Die Power Metal-Szene braucht einen Einlauf – und dieses Album ist einer!" – mit diesen markigen Worten startet der Infotext zum Zweitling "Out Of The Dark" der finnischen Power Metaller FROZEN LAND. So weit würde ich nicht gehen, aber eine sehr gute Platte mit einem mitreißenden 90er Sound, wie man ihn leider mittlerweile viel zu selten hört, ist die Scheibe allemal.
Denn tatsächlich bietet der Silberling schnellen, eingängigen, europäischen Power Metal der alten Schule. Das Tempo ist fast durchweg hoch, die Doublebass wummert, die Gitarren und Vocals sorgen für wundervolle Melodien, hymnische Refrains und spannende Soli.
Die Highlights an der Power Metal Front sind die mordseingängige Auskopplung `King's A Bitch´ ganz zu Beginn, das intensiv-treibende `Dying Of The Light´ und das herausragende `White Lightning´.
Für Abwechslung sorgen die emotionale Ballade `Don't You Ever Leave Me´, das eher im hymnischen Midtempo beheimatete `The Northern Star´ und das grandiose `Out Of The Dark´.
Dieses beendet nach sieben Songs im Grunde ein kleines, zeitgemäßes und doch traditionelles Power Metal Meisterwerk vorzeitig. Denn was dann in die Band gefahren ist, weiß der Geier – oder vielleicht Gitarrist Tuomas Hirvonen.
Denn dieser bzw. seine "perverse Vorliebe für Eurodance der 90er Jahre" werden als die Verantwortlichen für die letzten beiden Tracks bennant, bei denen FROZEN LAND dann urplötzlich Eurodance mit Metal mischen.
Und während `The Slayer´ noch so grade als ulkig-spaßige Dance Metal Nummer durchgeht, ist `Señorita´ mit seinen treibenden Beats und schrägen Vocals eine Beleidigung für die Ohren, so dass "Out Of The Dark" auch aufgrund der ohnehin nicht allzu üppigen Gesamtspielzeit mit einem kleinen Wermutstropfen zu Ende geht und einem an sich großartigen Album der würdige musikalisch einwandfreie Schlussakkord und eine höhere Punktzahl leider verwehrt bleiben (müssen).
PS.: Das Ganze dann auch noch mit einem ulkigen Video als Single herauszubringen verstehe wer mag, zeugt aber zumindest von einer Menge Humor und/oder Chuzpe.
Michael Gaspar vergibt 7,5 von 10 Punkten