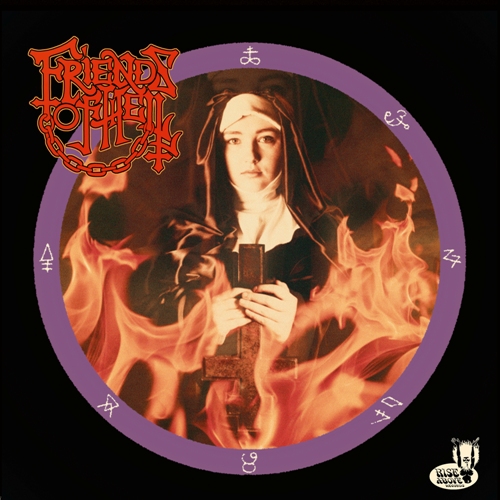 FRIENDS OF HELL
Titel: FRIENDS OF HELL
Spieldauer: 42:07 Minuten
VÖ: 18. März 2022
FRIENDS OF HELL kredenzen uns hier zwar ihr Debütalbum, bei den Männern dahinter handelt es sich aber mitnichten um Rookies.
Namentlich Tad Danazoglou (ex- Electric Wizard) und Albert Witchfinder (ex-Reverend Bizarre) sollten Kennern der Szene durchaus etwas sagen.
Diese beiden frönen zusammen mit Jondix (Gitarre) und Taneli (Bass) unter dem Banner FRIENDS OF HELL ihren eigenen Vorstellungen von Doom Metal.
Diese Vorstellung basiert auf den grundlegenden Einflüssen von Bands wie Pentagramm, Candlemass, St. Vitus und/oder Cathedral, mit denen schon eine breite Doom Palette abgedeckt ist.
FRIENDS OF HELL fügen dem aber noch vom Vibe her eine durchaus schwarz-metallische Note hinzu, die auf Bands wie Venom oder Bathory fusst.
Diese Zusammenführung bringt dann gelungene Tracks hervor, wie das doomig groovend beginnende 'Out With The Wolves', welches im Verlauf zu einem Speed-Doom Song mutiert, den rhythmischen Mid Tempo Banger und gleichzeitige Bandhymne 'Friends Of Hell', das schleppend beginnende und dann groovende 'Gateless Gate, das abwechslungsreiche 'Evil They Call' und das schleppende, aber dennoch hymnische 'Belials Bell'.
Doom Jünger und Veits Tänzer deren Doom auch gerne mal eine raue, räudige Seite aufweisen darf, sollten hier ein Ohr riskieren. Bin gespannt, was wir noch so von den Jungs hören werden. Mir jedenfalls gefällt's.
Ludwig Lücker vergibt 8 von 10 Punkten