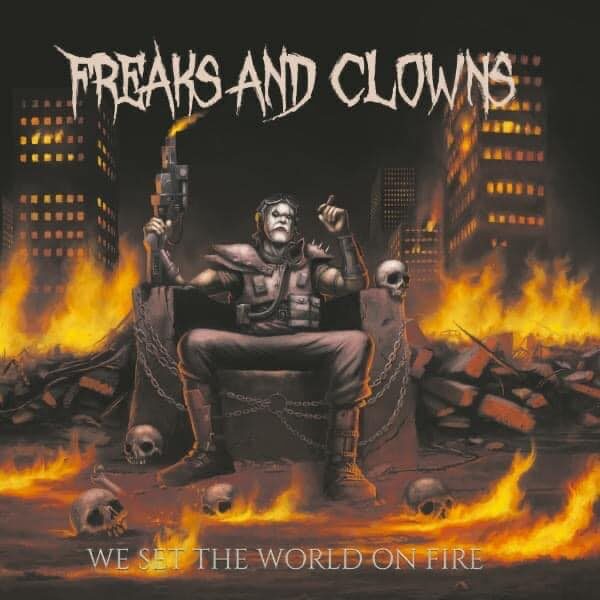 FREAKS AND CLOWNS
Titel: WE SET THE WORLD ON FIRE
Label: METALVILLE RECORDS
Spieldauer: 56:39 Minuten
Die schwedische Metalband FREAKS AND CLOWNS wurde 2017 von Astral Doors-Gründungsmitglied Johan Lindstedt und Sänger Christer "Chrille" Wahlgren aus der Taufe gehoben. Mit Mats Gesar (Gitarre) und Ulf Lagerström (Bass) gehören zwei weitere Astral Doors-Musiker sowie der zweite Gitarrist Mathias Henrysson zum Lineup.
Das dritte Studioalbum nach dem selbstbetitelten Debüt (2019) und "Justice Elite" (2020) trägt den Titel "We Set The World On Fire". Das Quintett kombiniert klassischen Hardrock mit modernem Power Metal, denn man hat sich vollkommen dem gradlinigen, ehrlichen Heavy Metal verschrieben und huldigt gleichzeitig den Heroen der 80er.
Die Info verspricht "13 knallharte Songs, die erneut keine Gefangenen machen, sondern vom ersten Moment an mit Vollgas nach vorne preschen", womit ironischerweise bereits ein Knackpunkt in der Beurteilung zum Ausdruck kommt. Denn die Gleichförmigkeit der Stücke und der Mangel an Variation und Abwechslung ist ein Hauptproblem der neuen Scheibe.
Das harte Riffing und die rauen, kratzigen Vocals erinnern beispielsweise im Titelsong, dem kraftvollen 'Scream Until You Like It' oder 'Dogs Of War' gewaltig an Accept. Doch das etwas melodischere 'Hell Raising Woman' und die eingängige Hymne 'One Last Ticket' machen im Folgenden deutlich mehr Eindruck.
So richtig gut, einprägsam und kurzweilig wird es immer dann, wenn das Gaspedal nicht bis zum Anschlag durchgedrückt und der Hardrockeinschlag mehr betont wird. So beim mitreißenden 'Dance Of The Dead' und dem gelungenen 'Children Of The Night'.
Auch die gefühl- und trotzdem kraftvolle Ballade 'Heavens Calling My Name' sorgt für Unterhaltung und Vielfalt und einen gelungenen Abschluss einer über weite Teile etwas eintönigen Scheibe mit einem ermüdend gleichförmigen Sound, die aber durchaus über ihre genannten Momente und für eine wirklich schlechte Bewertung im Schnitt dann doch über zu viele gute, packende Songs  verfügt.
Michael Gaspar vergibt 7 von 10 Punkten