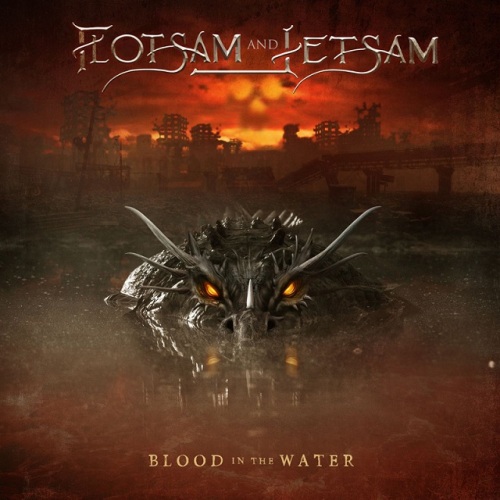 FLOTSAM AND JETSAM
Titel: BLOOD IN THE WATER
Spieldauer: 52:29 Minuten
FLOTSAM AND JETSAM haben das erste mal 1986 mit ihrem Debüt "Doomsday For The Deceiver" meinen Weg gekreuzt, ein Album das ich bis heute bewundere und für das beste der Jungs aus Phönix halte, ganz dicht gefolgt von "No Place For Disgrace". Nach dem Weggang von Newsted zu Metallic mussten FLOTSAM AND JETSAM erst einmal ihren neuen Weg finden und haben sicher auch nicht mit jedem Album einenVolltreffer gelandet.
Nun scheinen sich die Jungs respektive Herren in so etwas wie einem zweiten Frühling zu befinden, was auch das aktuelle Album "Blood In The Water" mehr als deutlich unterstreicht. Messerscharfe Riffs, eine coole Rhythmussektion, ein Eric am Mikro, der (fast) singt wie in alten Tagen und obendrein ballern uns die Arizona Metalheads noch haufenweise geile Thrash Songs um die Ohren.
Dies beginnt gleich mit dem nackenbrechenden Opener und gleichzeitigen Titeltrack 'Blood In The Water', ein gelungener Speedster mit melodischen Mittelpart und einer gelungen Vocalline. Auch 'The Walls' ist ein wahres Highlight, bei dem es nach einem melodischen Eröffnungsriff einen fetten Mid Tempo Banger gibt und ebenfalls eine gelungene Gesangsmelodie. Auch der Up Tempo Banger 'The Wicked Hour' mit seinem hymnischen Part, der Speedster 'Grey Dragon' und das schnelle 'Reagression', welches mit seinem ruhigen Part eine schöne Dynamik entfacht, sind richtig geile Nackenbrecher.
Allerdings muss auch ein Kritikpunkt genannt werden, und das ist der Sound, der wieder einmal sehr modern gestaltet aus den Speakern dringt. Hier wird zwar alles gegeben, ein etwas organischerer Sound wäre mir persönlich aber lieber gewesen.
Dies ist aber auch schon alles negative, was durch geile Songs mehr als wett gemacht wird. "Blood In The Water"…..da geht der Daumen klar nach oben.
Ludwig Lücker vergibt 9 von 10 Punkten