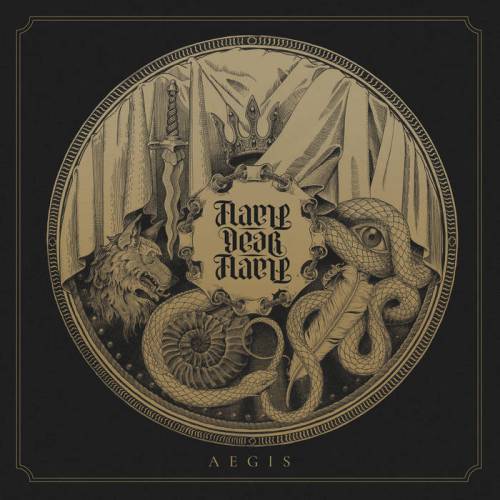 FLAME, DEAR FLAME
Titel: AEGIS
Spieldauer: 45:07 Minuten
Die Kapelle mit dem ebenso auffälligen wie ungewöhnlichen Namen FLAME, DEAR FLAME bringt nach ihrem ersten Lebenszeichen, einer EP namens "The Millenial Heartbeat" aus dem Jahr 2019, nun ihr erstes Langeisen unters Volk. Dabei besteht allerdings gut die Hälfte des aktuellen Drehers aus der erwähnten, bereits bekannten  EP.
Musikalisch sind die Niedersachsen klar dem Doom Genre zu zu ordnen. Schwere, düstere Riffs treffen auf viele ruhige akustische Parts. Hauptsächlich bei den ruhigen Parts erklingt auch die zarte, helle Stimme der Vocalistin Maren Lemke, die recht un-rockig klingt. Ich gebe hiermit zu, dass ich nicht gerade ein Fan solcher Vocals bin, auch wenn man objektiv der guten Frau wenig absprechen kann.
Musikalisch machen FLAME, DEAR FLAME wenig bis gar nichts verkehrt und haben mit dem zwischen fetten Riffs und ruhigen Parst wechselnden 'The Millenial Heartbeat Part II' und dem düsteren, rockigen 'The Wolf And The Prioress Part II' zwei richtig gelungene Songs in Petto.
Bis auf meine subjektiven Probleme mit den Vocals gibt es wenig zu meckern und gerade Fans von Bands wie Avatarium – bei denen ich persönlich das gleiche stimmliche Problem habe – können auch mindestens einen Punkt hinzu addieren und sich "Aegis" beruhigt ein tüten.
Ludwig Lücker vergibt 7,5 von 10 Punkten