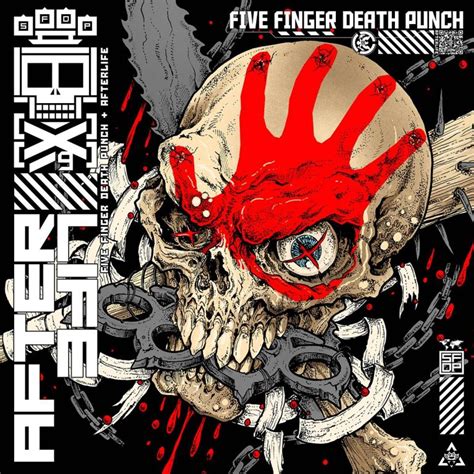 FIVE FINGER DEATH PUNCH
Titel: AFTERLIFE
Label: BETTER NOISE RECORDS
Spieldauer: 47:11 Minuten
VÖ: 19. August 2022
Wie enorme Plattenverkäufe und ausverkaufte Tourneen zeigen, haben die US Metaller FIVE FINGER DEATH PUNCH so einiges richtig gemacht und Legionen von Fans begeistert und präsentieren mit "Afterlife" den in diesem Fall wirklich mit Spannung erwarteten "F8" Nachfolger.
Über die Jahre hat die Band ihren ureigenen Signaturesound gefunden und perfektioniert. Aber die neue Scheibe geht durchaus auch mal kleine Abzweigungen, integriert elektronische Elemente (`Judgment Day´) oder langsame Vocals, und das ein oder andere flirrende Gitarrensolo darf natürlich auch nicht fehlen.
Auffallend ist der hohe Anteil an ruhigen, emotionalen Stücken wie `Blood And Tar´, `All I Know´ und `The End´, aber natürlich sind auch typische FFDP-Brecher wie `Roll Dem Bones´ und ` Gold Gutter´ vertreten.
Die Band bleibt ihrem Sound und Songwriting treu und die tiefe, kraftvolle Stimme von Ivan Moody ist das unverwechselbare Markenzeichen schlechthin. Und doch sind Tracks wie der Opener `Welcome To The Circus´, der Titelsong und das ebenfalls balladeske `Times Like These´ eher als solide, denn als herausragend zu bezeichnen.
Außer der mehr als oberamtlichen Hyme `IOU´ vermisse ich echte Kracher und Ohrwürmer der harten FFDP-Sorte. Das nicht mal ausgekoppelte `Pick Up Behind You´ hat am ehesten das Zeug dazu.
Eine gute, aber nicht überragende Platte, der einige Volltreffer der Marke `Bad Company´, `Blue On Black´ und `Sham Pain´, eine leichtfüßige Nummer wie `A Little Bit Of Today´ oder ein eingängiger Brecher wie `Jackyl And Hide´ abgehen bzw. gutgetan hätten.
Dennoch haben einige der genannten Songs, beispielsweise auch das erwähnte `Jugdment Day´ mit seinen Mitsingparts das Zeug zum Fanliebling und festen Setlistenbestandteil und sollten der wachsenden Popularität und dem weiteren kommerziellen Wachstum nicht im Weg stehen.
Michael Gaspar vergibt 7,5 von 10 Punkten