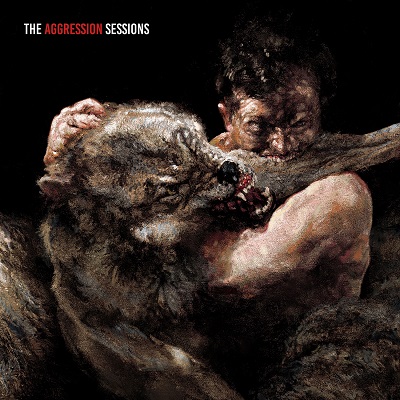 FIT FOR AN AUTOPSY, THY ART IS MURDER, MALEVOLENCE
Titel: THE AGGRESSION SESSIONS (EP)
Label: NUCLEAR BLAST RECORDS
Spieldauer: 23:55 Minuten
VÖ: 07. April 2023
2016 erschien "The Depression Sessions", eine Split-EP der australischen Deathcorer THY ART IS MURDER und der US-Kollegen FIT FOR AN AUTOPSY. Eine weitere Metalcore/Deathcore Vollbedienung erscheint nun in Form der Fortsetzung "The Aggression Sessions".
Die Idee zu einer weiteren EP entstand bereits während der Arbeiten zum Vorgänger. Die Scheibe erscheint digital am 07. April, die CD- und Vinyl-Editionen folgen am 21. Juli.
Der Nachfolger ist ebenfalls ein 6-Song-Mini-Album, bei dem jede Band dieses Mal eine Originalsingle und einen Coversong anbietet. Als drittes Schwergewicht des zeitgenössischen Metals sind die Briten MALEVOLENCE neu mit dabei.
Für diese Session covern THY ART IS MURDER Cannibal Corpse´s `Hammer Smashed Face´ und FIT FOR AN AUTOPSY versuchen sich gewohnt kompromisslos an `Under A Serpent Sun´ von At The Gates, während MALEVOLENCE den Hit `Left Outside Alone´ (2004) der amerikanischen Pop-Sängerin Anastacia in eine moderne, mächtige, eingängige Metalcore-Hymne verwandeln.
Doch los geht es mit den Eigenkompositionen und da machen FIT FOR AN AUTOPSY mit ihrem aggressiven, packenden Riff-, Hook- und Breakdown-Monster `Hellions´ den Anfang.
THY ART IS MURDER legen mit `Until There Is No Longer´ in Sachen Geschwindigkeit, Power und Doublebassgewitter noch eine Schippe drauf und integrieren zudem Blackend Death Elemente in ihren Sound, bevor MALEVOLENCE bei `Waste Of Myself´ mit genausoviel Wumms, etwas weniger Geschwindigkeit, dafür aber tonnenweise Groove und sogar einem packenden Gitarrensolo glänzen.
Fazit: spannende Compilation mit starken Songs voller Energie und Schmackes, die Laune macht und fesselt und für die einige der führenden bzw. aufstrebenden Vertreter des Genres gemeinsame Sache gemacht haben.
Michael Gaspar vergibt 7,5 von 10 Punkten