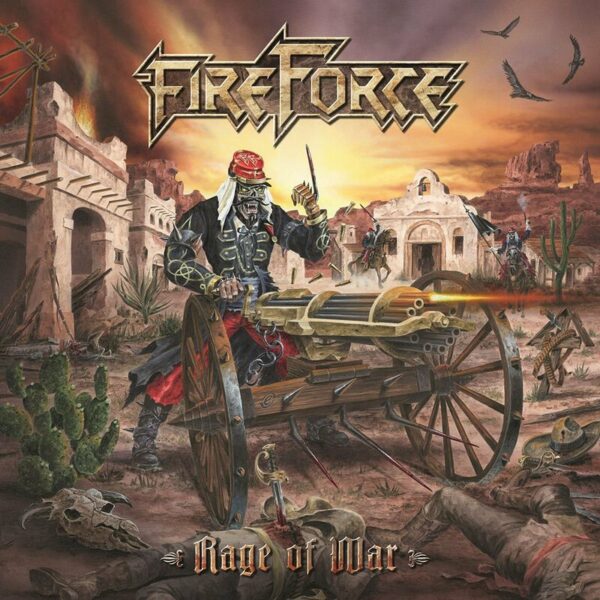 FIREFORCE
Titel: RAGE OF WAR
Label: ROCK OF ANGELS/SOULFOOD
Spieldauer: 53:37 Minuten
Wer FIREFORCE ob der Kriegsoptik ihrer Cover und des historischen Themenschwerpunkts ihrer Texte in die Nähe von Sabaton zu rücken gedenkt, wird spätestens beim Opener und Titelstück 'Rage Of War' eines besseren belehrt. Denn die Belgier haben sich der speedigen Variante des Power Metals verschrieben und haben mit schwülstigen Refrains eher weniger zu tun. Aber natürlich können die Jungs aus Antwerpen auch Midtempo ('March Or Die') und Hooklines ('Ram It').
Die größte Stärke von FIREFORCE ist – um beim Namen zu bleiben – ihre Feuerkraft im Gitarrenbereich. Bandkopf und einzig verbliebenes Gründungsmitglied Erwin Suetens, der dieses Album komplett im Alleingang geschrieben hat, ist nämlich ein erfahrener Riffschmied. Vor allem die doppelstimmigen Gitarrenläufe wissen zu gefallen. Mit Matt Asselberghs hat er sich eine Allzweckwaffe an Bord geholt, die neben den Vocals auch noch alle Gitarrensoli beigetragen hat und das verdammt souverän.
Der Franzose, der erst im letzten Jahr zur Band gestoßen ist, hat seine Feuertaufe auch gesangstechnisch mit Bravour bestanden und drückt "Rage Of War" mit seiner rauen Stimme seinen Stempel auf. Dabei erinnert er nicht selten an R.D. Liapakis, in dessen Allgäuer Studio die Vocals auch aufgenommen wurde. Kein Wunder also. Im Gegensatz zur letzten Steel Prophet passt dieser Gesangsstil auch hervorragend zur Musik.
Der Sound ist insgesamt sehr knackig ausgefallen, was auch dem Mix von Henrik Udd (u.a. Hammerfall) geschuldet ist. Anhänger der Band in Klammern dürfen hier durchaus ein Ohr riskieren. Aber auch Leute, die mit schwedischem Bombast nichts anfangen können, sollten FIREFORCE mal eine Chance geben. Die teutonisch klingenden Belgier müssten Fans von Mystic Prophecy und Brainstorm eigentlich begeistern.
Anspieltipps: 'Forever In Time' und 'Rats In The Maze', das neben zwei weiteren Tracks nur auf der CD enthalten ist. Dafür hat die LP einen Songs, der sich nicht auf der CD befindet. Eine Veröffentlichungspraxis, die anscheinend dazu führen soll, dass die Leute sich beides kaufen. Muss nicht sein.
Alex Fähnrich vergibt 7 von 10 Punkten