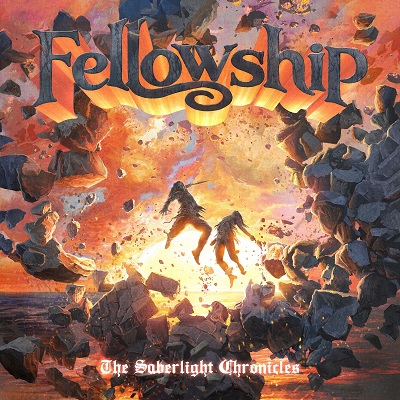 FELLOWSHIP
Titel: THE SABERLIGHT CHRONICLES
Spieldauer: 62:26 Minuten
VÖ: 15. Juli 2022
Der britische Vierer FELLOWSHIP legt seine Debütscheibe "The Saberlight Chronicles" vor, mit der man nach eigener Aussage die Power Metal Szene im Sturm erobern möchte. Diese präsentiert eingängige Europower Tracks mit pfeilschneller Gitarrenarbeit und lebensbejahenden Texten.
Die zwölf zuckersüßen Stücke, hohe Vocals und die dominanten Synthies gehen eine unheilvolle Allianz mit quietschbuntem Artwork, übertriebener Theatralik und alberner Kostümierung der Protagonisten ein. Einen musikalischen Eindruck verschaffen die beiden Vorabauskopplungen: der Opener `Until The Fires Die´ und das ESC-taugliche `Oak And Ash´.
Alle Songs tönen mehr oder weniger gleichförmig und wenig abwechslungsreich aus den Boxen, so dass einen manchmal der Eindruck beschleicht, versehentlich die Repeat-Funktion aktiviert zu haben. Jedenfalls hat man das alles schon zig Mal und vor allem besser, inspirierter und unterhaltsamer gehört.
Zugutehalten muss man dem erzählerischen Konzeptalbum die absolut konsequente Umsetzung des musikalischen Ansatzes, die fast klebrige Eingängigkeit und die starken Lyrics über "Mental Health" mit Empowerment im Hinblick auf Selbstfindung, ein gesundes Selbstwertgefühl und die ´Suche nach Mut`. Den mehr als durchwachsenen Eindruck des Silberlings vermag dies allerdings auch nicht mehr aufzubessern.
Michael Gaspar vergibt 5 von 10 Punkten