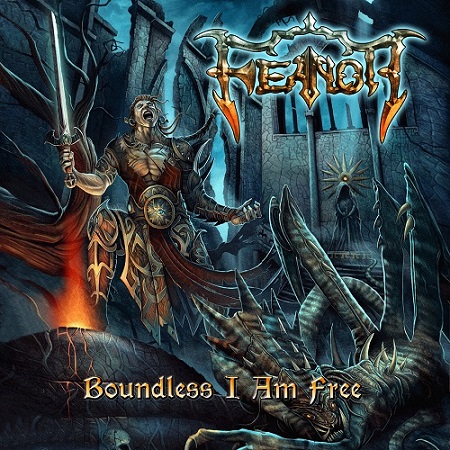 FEANOR
Titel: BOUNDLESS I AM FREE (EP)
Spieldauer: 15:10 Minuten
Erst im April dieses Jahres veröffentlichte die mehrheitlich argentinische True Metal Band FEANOR ihr viertes Studioalbum "Power Of The Chosen One". Nun wird mit "Boundless I Am Free" eine EP mit vier Tracks nachgereicht.
Den Titelsong schrieb Gustavo Acosta (Bass, Keyboard) in Gedenken an seinen Vater während er mit Ex-Manowar-Gitarrero Ross The Boss auf Tour war. Dieser übernahm dann auch alle Rhythmus- und Leadgitarren für den Song, der vor allem mit schönen Melodiebögen und einem hymnisch-eingängigen Refrain überzeugt und mit seinem majestätischen, fast schleppenden Tempo schon an Manowar erinnert.
Bei der folgenden, ebenfalls gelungenen Akustikversion des Songs ist Pianist und Musicaldirektor Julio Awad am Piano zu hören. Die Streicher wurden von der bulgarischen Violinistin Diana Boncheva Kirilova eingespielt.
Die Verwurzelung im True Metal und die tiefe Verbundenheit der Band zu Fans und Mitgliedern von Manowar führten ebenfalls zur Zusammenarbeit mit Eric Marullo, Sohn des Manowar Sängers Eric Adams, auf "I Have A Fever", ein flottes, metallisches, eher Feanor-unübliches Stück mit kurzem Solo.
Das abschließende, kurze Instrumentalstück 'The Scorpion Stings in Am' zeigt in akustischen Flamencoklängen das Können des Feanor-Gitarristen Walter The Scorpion.
Eine Bewertung ist bei nur zwei "echten" neuen Tracks schwerlich möglich. Diese machen aber neugierig auf mehr, sind sie doch besser als das meiste was sich so auf dem letzten regulären Longplayer tummelte.
Michael Gaspar vergibt keine Bewertung