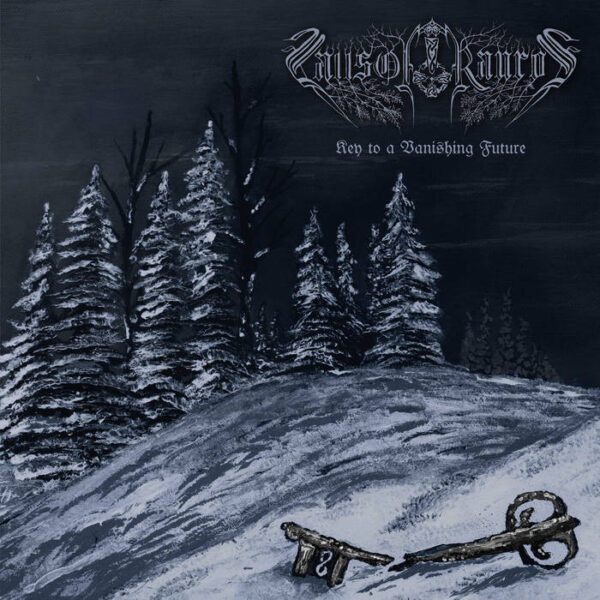 FALLS OF RAUROS
Titel: KEY TO A VANISHING FUTURE
Label: EISENWALD TONSCHMIEDE
Spieldauer: 43:58 Minuten
VÖ: 25. März 2022
FALLS OF RAUROS sind eine US-amerikanische Folk/Black Metal Band aus Maine und "Key to a vanishing future" ihr bereits sechstes Album. Gegründet im Jahre 2005 frönen die Amis der folkigen und weithin atmosphärischen Variante von  (Black) Metal. Ich setze das Black bewusst in Klammern, da hier Garstigkeit und Boshaftigkeit vergleichsweise wenig ausgeprägt sind. Das soll kein Urteil sein, sondern schlichtweg eine Feststellung. 
FALLS OF RAUROS bringen große Naturmotive und Oden zum Wandern und Verweilen in selbiger in die Rille. Wenig eingängig und ohne wirklich greifbare Hits. Aber dennoch sind die Tracks angenehm hörbar und laden zum Eintauchen in die geschaffene Atmosphäre ein. Daher darf man den Sound der Truppe aus Portland, Maine durchaus als progressiv verstehen.
Highlights sind die drei abschließenden Songs, die mächtig und opulent daherkommen ohne in irgendwelchen Keyboardeskapaden oder kitschigen Opernchören zu versinken, sondern ehrliche Musik. Hier ist auch die ein oder andere fulminante Highspeed Passage beinhaltet. 
Insgesamt nicht ganz meine Wellenlänge auch wenn FALLS OF RAUROS ein nettes Scheibchen für eine lauschige Wanderung oder einen verträumten Nachmittag geschaffen haben. Erhältlich beim renommierten Eisenwald Label.
Ingo Holzhäuser vergibt 7 von 10 Punkten