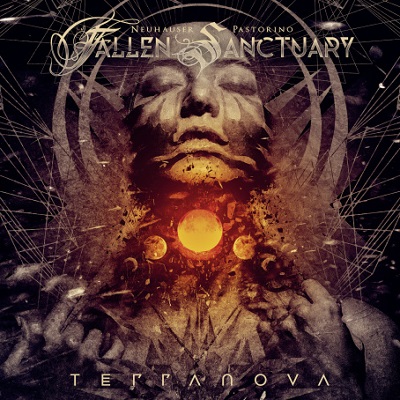 FALLEN SANCTUARY
Titel: TERRANOVA
Spieldauer: 61:47 Minuten
VÖ: 24. Juni 2022
FALLEN SANCTUARY bestehen aus den beiden Masterminds Sänger Georg Neuhauser von den österreichischen Symphonic-Metallern Serenity und Marco Pastorino, Gitarrist der italienischen Melodic Metal-Formation Temperance. Komplettiert wird das Quartett, das sein Debütalbum "Terranova" vorlegt durch Alfonso Mocerino am Schlagzeug sowie Bassist Gabriele Gozzi.
Beim musikalischen Hintergrund der beiden Protagonisten wird schnell deutlich, dass wir es hier nicht mit verkopftem Post Hardcore oder Progressive Grunge zu tun haben werden, sondern es rasanten, variablen und interessanten Melodic Power Metal zu hören gibt.
Die dynamischen, eingängigen mit Hammer-Refrains gesegneten Nummern `Broken Dreams´ und `Terranova´ hätten auch auf den Frühwerken von Sonata Arctica oder Edguy stehen können. Die beiden weiteren Vorabsingles verdeutlichen hingegen die AOR-Querverweise an Bands wie Eclipse oder H.E.A.T einerseits (´To The Top´) und die leicht progressive Durchsetzung andererseits (`Now And Forever´).
Während `I Can´t Stay´ zeigt, dass FALLEN SANCTUARY auch emotionale Piano-Ballade können, beweisen weitere, schnelle Ohrwürmer mit Melodie und Mitsing-Chorus wie `Destiny´ und `No Rebirth´, dass sie Langeweile und wenig Eingängigkeit nicht draufhaben.
Durchaus aktuelle und gesellschaftskritische Texte über Gewalt, Drogen, Kriminalität und Umweltzerstörung runden eine hochklassige Veröffentlichung mit zehn mitreißenden, hyper-eingängigen Tracks gelungen ab.
Hoffen wir also, dass Sänger Neuhauser Recht behält, wenn er auf die eigenen Trademarks bezogen augenzwinkernd den Spieß umdreht und bemerkt: "Ich gehe davon aus, dass es in zwei Jahren sowieso heißen wird: Diese oder jene Band klingt wie Fallen Sanctuary!"
Michael Gaspar vergibt 8,5 von 10 Punkten