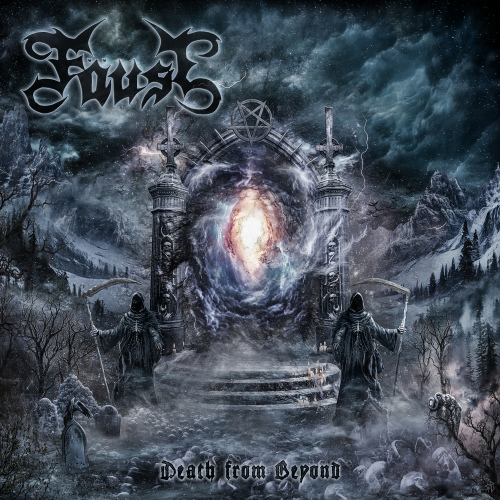 FÄUST
Titel: DEATH FROM BEYOND
Spieldauer: 35:03 Minuten
VÖ: 09. Dezember 2022
FÄUST (nicht zu verwechseln mit den tschechischen Thrashern Faüst) ist ein Solo-Projekt des französischen Elvenstorm-Gitarristen Michaël Hellström, der kurzzeitig auch mal bei den Landsmännern von Lonewolf die Axt geschwungen hatte. Wer bei FÄUST jetzt ebenfalls traditionellen Metal erwartet, hat sich aber geschnitten.
Auf dem Debüt "Death From Beyond" kredenzt Hellström (passendes Pseudonym übrigens) abwechslungsreichen Blackened Death Metal skandinavischer Art. Wem Schlachtplatten von Bands wie Watain, Necrophobic oder Dissection munden, dürfte prinzipiell also Geschmack an vorliegender Scheibe finden.
Wie eben genannte Altmeister variieren FÄUST permanent zwischen hymnischer Black/Thrash-Raserei, stampfendem Midtempo-Death und einigen getragenen epischen Passagen. Bei Letzteren guckt (fast zwangsläufig) Küchenchef Quorthon sporadisch mal um die Ecke und wirft bei 'Throne Of The Damned' und 'Night Eternal' auch gleich ein paar bathoryeske "Ooh-ho-hooo-Chöre" mit auf den Teller.
Als Anspieltipps nenne ich jetzt einfach den räudigen Opener 'When Death Spawns Fire' und das dramatische Abschluss-Highlight 'Hellstorm'. Aber auch Songs dazwischen sind auf gleichbleibendem (hohen) Niveau und immer erfreulich abwechslungsreich: Starke melodische Gitarrenleads, keine langatmigen Passagen, effektiv gesetzte Breaks, zahlreiche Tempo- oder Rhythmusvariationen, ohne den Spielfluss zu (zer)stören – selbst die wenigen Blastspeed-Parts (die ich grundsätzlich eigentlich gar nicht brauche) fügen sich stimmungsvoll ein.
Um im Küchenjargon abzuschließen: Produktionstechnisch ist "Death From Beyond" druckvoll und ausgewogen zubereitet (Puristen könnten allerdings die Nase rümpfen und die fehlenden Maden im Soundspeck bemängeln). Songtechnisch ist dieses Debüt zwar keine Revolution für die Geschmacksknospen, zählt aber definitiv zur gehobenen Black/Death-Metal-Küche. Mir persönlich schmeckt's jetzt schon ungemein – bin überzeugt, dass FÄUST bei einem Nachfolger nochmal nachwürzen können.
Joe Nollek vergibt 7,5 von 10 Punkten