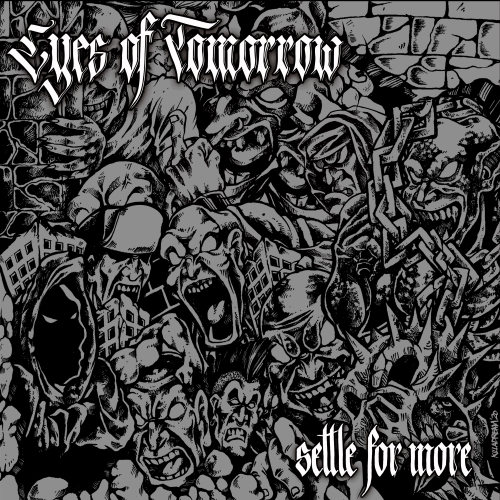 EYES OF TOMORROW
Titel: SETTLE FOR MORE
Spieldauer: 23:43 Minuten
Old-School NYHC ist, ähnlich wie Old-School Schweden Death Metal, ein Genre, in dem vom Songwriting und Attitude her schon vor 30 Jahren alles durch die Original-Helden wie Sick Of It All, Agnostic Front, Madball oder den Cro-Mags gesagt wurde. Junge Bands, die diesem Stil heute frönen, tun das aus Hingabe und als Hommage. Was also kann man als Rezensent als Maßstab für die Bewertung eines neuen Albums aus dem Genre ansetzen? Nun, das Zauberwort heißt Energie!
Der, stilgerecht nach einem Cro-Mags Song benannte, Ruhrpott-Fünfer EYES OF TOMORROW hat auf seinem Debutalbum 'Settle For More' genau dieses Energielevel, dass Dich beim ersten Durchhören fragen läßt, woher Du die Kohle für eine neue Wohnzimmereinrichtung hernehmen sollst. Jeder der elf Songs hat also das Potenzial für einen One-Man-Wohnzimmer-Moshpit mit abschließendem Couch-Dive auf den Fliesentisch. Besonders kostspielig wird es da vor allem beim Uptempo-Brett 'World Of Lies' und dem titelgebenden Two-Step-Kracher 'Settle For More. Dabei atmen, essen und scheißen EYES OF TOMORROW den Spirit der alten Cro-Mags und haben das Ganze mit einem kraftvollen Soundgewand gepimpt.
Wie gesagt, originell ist anders, aber wie ebenfalls gesagt, originell ist in diesem Genre auch garnicht möglich oder gar gewünscht. Wenn das Ergebnis mit so viel Power und Dedication wie auf 'Settle For More' von EYES OF TOMORROW daherkommt ist für den Fan alles im grünen Bereich.
Dirk Eckhard vergibt 8,5 von 10 Punkten