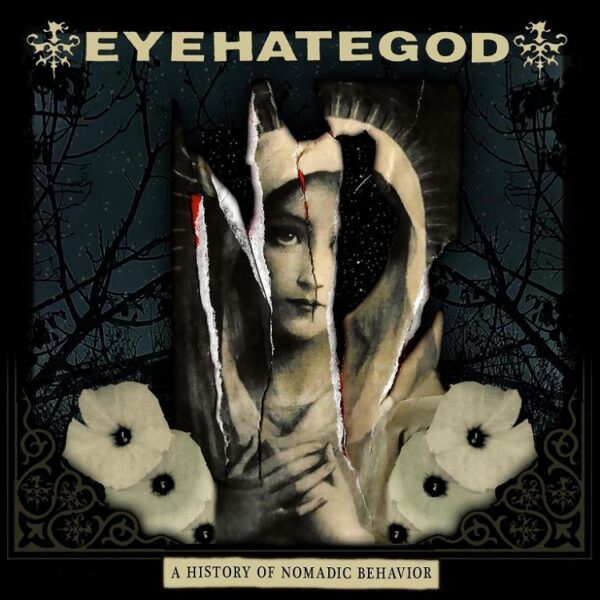 EYEHATEGOD
Titel: A HISTORY OF NOMADIC BEHAVIOUR
Spieldauer: 41:56 Minuten
Mit "A History of NOMADIC Behaviour" kriechen New Orleans' finest and dirtiest wieder aus den modrigen Sümpfen hervor und bringen ihre Interpretation von Sludge, Doom, Blues und Verzweiflung an den Mann (Gendern überlasse ich anderen…). Wobei eins gesagt sein muss: EyeHateGod werden nie der breiten Masse gefallen – und das ist ehrlich gesagt auch gut so.
Sieben Jahre nach der selbstbetitelten letzten Platte liegt das erst sechste Studioalbum der Truppe vor. Geschüttelt durch Krisen und Schicksalsschlägen ist EyeHateGod wieder mal ein fast schon als dissonant zu bezeichnender Klumpen aus Verzweiflung, Wut, Qualen und Hass gelungen. Das Ganze im bandeigenen Korsett des NOLA Sludgesounds. Mit "A History of Nomadic Behaviour" werden schlagartig Erinnerungen an die frühen Neunziger Outputs wie "Dopesick" oder "Take as needed for Pain" wach. Wabernde Orgien, die ihren Unmut in die Welt herausschreien, ihre aufgestaute Wut kanalisieren und stets den hohen Qualitätslevel ihrer Musik wahren.
Zwölf Tracks vom Opener "Built beneath the Lies" weg mit überzeugen vollends. EyeHateGod ziehen alle Register, egal ob mit Jimmy Bowers Breitwand Gitarren ("High Risk Trigger", "Anemic Robotic"), Jazz-Anleihen ("Smoker's Piece"), Mike XI Williams unvergleichlichen Vokals oder einfach diese versifften doomigen Sludgeorgien in C-Moll.
Man muss EyeHateGod nicht mögen, sie sind hässlich und verstörend. Und zerstörend und auch verstört. Aber wenn man sie mag, liebt man sie heiß und innig. Die Stop-and-Go Ballade "Fake what's yours" kann nur EHG so bringen. Einzigartig!
Fazit: Grandioser Output! Als Fan der ersten Stunde bin ich vielleicht blind… oder taub, erst recht nach dem letztjährigen Live-Auftritt im Rahmen der "Campaign for Musical Destruction"-Tour. Egal, Play Loud and Worship the Gods of Sludge!
Ingo Holzhäuser vergibt 9 von 10 Punkten