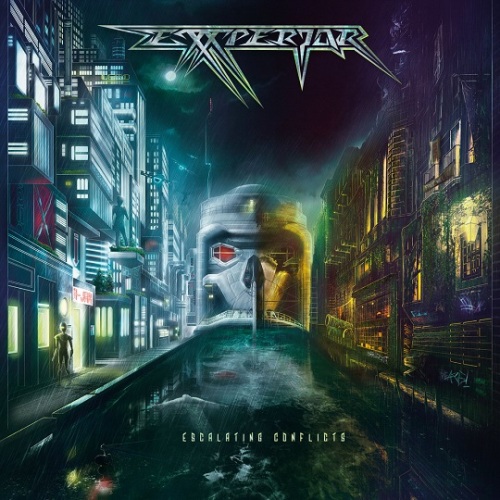 EXXPERIOR
Titel: ESCALATING CONFLICTS
Spieldauer: 76:02 Minuten
Wenn es denn der Sinn von Tom Liebing ist, mit seinem seit 2010 bestehenden Projekt EXXPERIOR Fragezeichen auf die Stirn des durchaus interessierten Rezensenten zu zaubern, so muss ich gestehen, hat er dies geschafft.
Die Truppe aus Sachsen kombiniert hier derben Thrash mit Speed und melodischen Momenten. Dem aber nicht genug, finden sich plötzlich frickelige Parts im Arrangement, die durchaus jazzige Momente entwickeln, Auch Mucky Pup artige Sequenzen finden sich im Soundbild EXXPERIOR's. Die Vocals machen zudem diese irrwitzigen Sprünge mit. Die Band schafft es dabei, einen eventuell für sie vorhandenen roten Faden gut zu verstecken.
Zum Einstieg seien das abwechslungsreiche 'Timeless But MIndless', das überwiegend schnelle 'Multidimensional Mindblow', das eher melodische 'Masks Of Men' oder das von Marschrhythmus und Stakkato-Riffs geprägt 'Join The Brigade!' empfohlen.
Dass Herr Liebing die Instrumente beherrscht ist hier keine Frage, ob man ihm aber auf seiner Reise zu folgen vermag möge jeder selbst fest stellen. Mir persönlich fällt dies häufig schwer.
Ludwig Lücker vergibt 6,5 von 10 Punkten