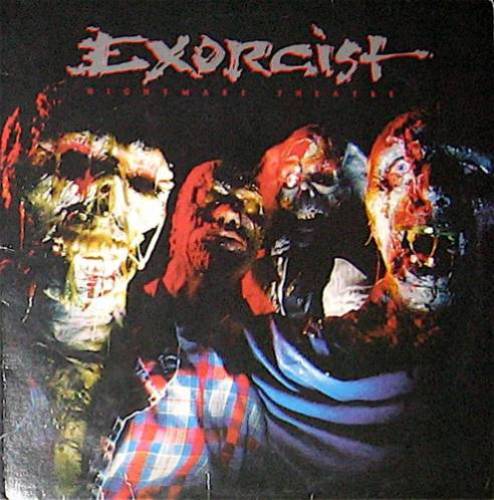 EXORCIST
Titel: NIGHTMARE THEATRE
Spieldauer: 38:07 Minuten
Im momentanen Wahn ältere Scheiben neu auf zu legen und einem breiteren Publikum zugängig zu machen – in der positiven Sicht; negativ könnte man auch sagen, ohne großen Einsatz und Risiko überhaupt Scheiben heraus zu bringen -, haben sich High Roller dazu bewogen gefühlt, die 1986er Scheibe der mittlerweile wohl aufgelösten New Yorker Speed/Thrash Metaller EXORCIST erneut heraus zu bringen.
"Nightmare Theatre" ist übrigens die einzige Veröffentlichung der New Yorker Kapelle, die allerdings aus Muckern von Virgin Steele bestand und bei der man munkelt, dass es von David de Feis und Edward Pursino geschrieben worden ist. Allerdings erkennt man musikalisch hiervon nüscht, denn die Mucke ist thrashiger Metal mit einigen Anleihen aus dem Speed Bereich. Das Ganze wird garniert mit relativ schrägen Soli und recht growligen Vocals.
Klingt eher uninteressant? So einfach ist es dann doch nicht, denn mit dem im Mid Tempo gehaltenen Opener 'Black Mass', dem treibenden 'Call For The Exorcist', den Up Tempo Bangern 'Death By Bewitchment' und 'Execution Of The Witches' sowie dem straighten Speedster 'Riding To Hell' haben EXORCIST einige mehr als annehmbare Songs am Start. Und für 1986 weisen sie auch einen relativ hohen Härtegrad auf.
Allerdings wird der Fluss der Scheibe durch Zwischensequenzen erheblich gestört, die meines Erachtens auch völlig überflüssig sind. Wer sich angesprochen fühlt, sollte herein hören. Allerdings gibt es noch viele achtziger Jahre Perlen, deren Re-Release vielleicht essentieller wären.
Ludwig Lücker vergibt 7,5 von 10 Punkten