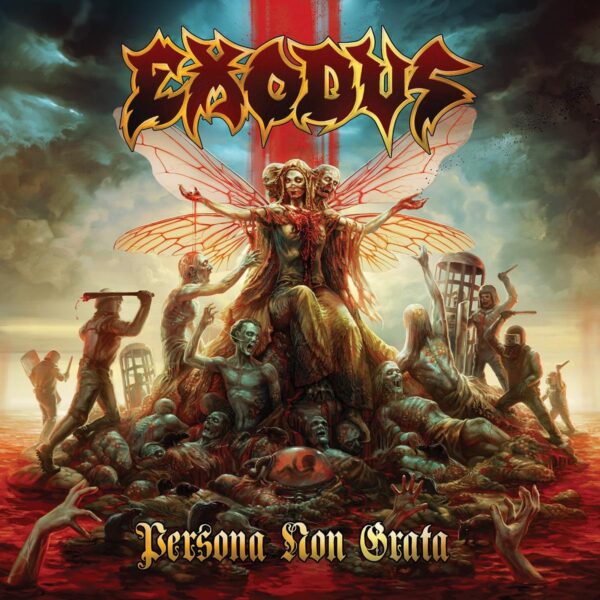 EXODUS
Titel: PERSONA NON GRATA
Spieldauer: 60:18 Minuten
Muss ich über EXODUS eigentlich noch große Worte verlieren? Eigentlich nicht, denn ihr Referenzwerk des Thrashs "Bonded By Blood" sollte in keinem gut sortierten Metal Haushalt fehlen. Auch alle späteren Werke, immerhin zehn weitere Langeisen das aktuelle Werk exklusive, kann sich jeder Thrasher unbesorgt in den Schrank stellen.
Das letzte EXODUS Werk "Blood In, Blood Out" ist jetzt überraschenderweise auch schon sieben Jahre alt, Slayer ist – Stand heute – Geschichte und Gary Holt ist zurück…..aber EXODUS machen weiter wie bisher und ballern uns einfach gute Songs frontal auf die Birne.
Direkt nach dem eher sperrigen Opener hauen sie mit dem pumpenden, straighten Speedster 'R.E.M.F.' ein fettes Pfund heraus. Auch die beiden folgenden 'Slipping Into Madness', ein nach ruhigen Einstieg zwischen Speed und Mosh Parts wechselnder Thrasher und das nach einem Drum betonten Einstieg erst schleppend beginnende und dann im Tempo anziehende 'Elitist' sind zu empfehlende Brecher.
Aber EXODUS haben mit dem groovigen, hymnischen 'The Years Of Death And Dying' – meinem persönlichen Favoriten – und dem schnellen, aber dennoch hymnischen 'Clickbait' noch zwei weitere absolute Granaten in petto.
Hinzu kommt, dass es auch bei den anderen Tracks keinen einzigen Stinker gibt und die Produktion ordentlich drückt.
EXODUS sind zurück….for another lesson in violence! Don't miss it!!
Ludwig Lücker vergibt 9 von 10 Punkten