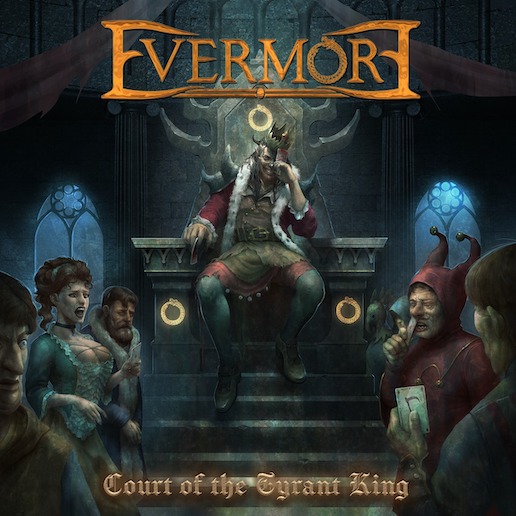 EVERMORE
Titel: COURT OF THE TYRANT KING
Spieldauer: 41:27 Minuten
VÖ: 23. September 2022
Hatte ich mich nicht vor kurzem noch über mangelnden, vor allem qualitativ hochwertigen Nachschub an der Power Metal Front beschwert? Der September hat sich offenbar vorgenommen, da so einiges wieder gutzumachen, was im Verlauf des Jahres bisher versäumt wurde.
"Court Of The Tyrant King", das Zweitwerk des schwedischen Trios EVERMORE, reiht sich jedenfalls nahtlos in mehrere starke Genre-Outputs des Monats ein. Die Gruppe möchte mit ihrem melodischen, eingängigen Power Metal eine erhebende und motivierende Stimmung erzeugen, was den acht Songs (abzüglich des kurzen Intros `Heros Journey´) durchweg auch gelingt.
Pfeilschnelles Riffing, die hohen Vocals von Fronter Johan Haraldsson, catchy Melodien und Refrains sowie hymnisch-eingängige Gesänge/Chöre sorgen für vierzig Minuten gutklassige Metal-Unterhaltung.
In den Texten haben ernsthafte, geerdete Themen des Zeitgeschehens die Fantasy-Geschichten weitgehend verdrängt, die aber immer noch in Teilen präsent sind.
Als Anspieltipps sind vor allem der fantastische Titelsong, welcher zusätzlich mit einer grandiosen von weiblichen, ätherischen Gesängen dargebotenen Bridge aufwartet, und das balladesk-majestätische `My Last Command´ zu empfehlen.
Es dürfte zwar eine historisch nicht haltbare These sein, aber für letzteren Song wurde vermutlich mal der Begriff "Hymne" geprägt.
Das etwas ruppigere, rifflastige `By Death Reborn´ und sein packender Chorus beschließen eine gelungene, stimmige und kurzweilige Scheibe, der jeder Power Metal Fan eine Chance geben sollte.
Michael Gaspar vergibt 8 von 10 Punkten