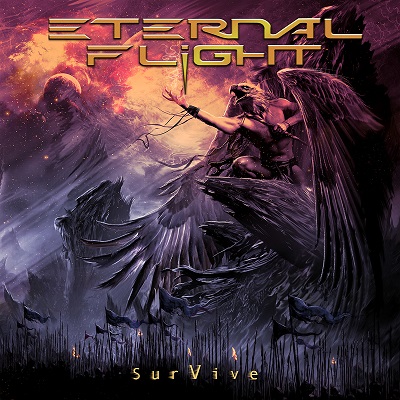 ETERNAL FLIGHT
Titel: SURVIVE
Label: METALAPOLIS RECORDS
Spieldauer: 49:40 Minuten
Vor genau zwanzig Jahren vom ehemaligen Dream Child Mastermind Gerard Fois gegründet, dürften sich ETERNAL FLIGHT zu einer der bekanntesten Metalacts in Frankreich gemausert haben. Auch auf dem nunmehr fünften Studio-Album "SurVive" frönen sie dem melodischen Heavy Metal mit Anleihen im traditionellen Hard Rock und Progressive Metal.
Und so sind denn die ersten Tracks dann auch in dieser Schnittmenge allerdings ohne allzu große Prog-Anteile beheimatet. Mal geht es melodischer, mal traditionell, auch mal mit hohen Screams, mal schneller, mal etwas getragener zur Sache. Doch mit dem sehr guten 'Is This The End', spätestens aber mit dem grandiosen 'Mysterious Kings' ändert sich etwas grundlegend.
Der Prog-Anteil steigt rapide und die Kompositionen werden ausladender und intensiver, die Refrains treffender und die Soli packender. Die einzelnen Rädchen greifen besser ineinander und die Arrangements werden zwingender und die Songs einfach besser.
Man höre sich nur mal das grandiose Keyboard-Solo im Mittelteil von 'Evolution, Revolution', dass zudem einen packenden Chorus besitzt, oder den langen Solo-Teil am Ende vom insgesamt recht eingängigen 'You And I' an. Und mit dem abschließenden, intensiven 'Children Of The Earth' ist ETERNAL FLIGHT wahrhaftig ein kleiner (bzw. mit fast sieben Minuten eher langer) Prog-Ohrwurm gelungen.
Auch der textliche Inhalt, denn "SurVive" ist eine Art Konzept-Album über den guten alten Kampf zwischen Gut und Böse und ums Überleben in einer zerstörten, post-apokalyptischen Welt, kommt in der zweiten Hälfte der Scheibe wesentlich besser zur Geltung. Mit dieser Virtuosität, Leidenschaft und Stringenz in den Tracks über die gesamte Spieldauer wäre eine noch höhere Bewertung des insgesamt gutklassigen Silberlings drin gewesen.
Michael Gaspar vergibt 6,5 von 10 Punkten