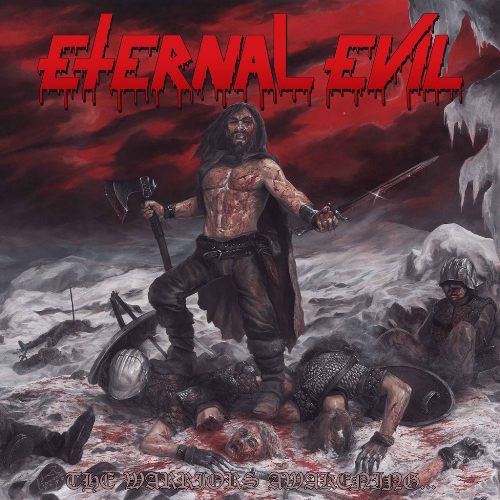 ETERNAL EVIL
Titel: THE WARRIORS AWAKENING BRINGS THE UNHOLY SLAUGHTER
Label: REDEFINING DARKNESS RECORDS
Spieldauer: 40:16 Minuten
Na das nenne ich mal einen einprägsamen Albumtitel……Da hat sich die aus Schweden stammende Kapelle namens ETERNAL EVIL sicher etwas bei gedacht, was weiss ich allerdings nicht.
Zumal die Songtitel recht einfach und prägnant gehalten sind, was auch für die Mucke des Quartettes gilt. Die Jungs spielen angeschwärzten Thrash Metal, zumeist in einem alles anderem als langsamen Tempo. Da die Truppe aber ihre Mucke versiert zu zocken weiss, geht dabei nicht die Übersicht verloren.
Positiv zu erwähnen sind hier vor allem der Opener 'Succubus' ein Speedster mit einem kurzen pumpenden Mid Tempo Part, das nach einem fetten Einstieg ultra-schnell ballernde 'The Captors Command' – übrigens der längste Songtitel -, das zwischen Speed und coolem drum Groove wechselnde 'Minotaur Of Evil', für mich der beste Songs der Scheibe, das nach einem epischen Einstieg größtenteils im pumpenden Mid Tempo aus den Boxen walzende 'Eternal Evil' und der straighte Speedster 'Stab Of The Blade'.
Die rauen Vocals von Adrian Tobar und das knackige Coverartwork runden hier ein mehr als ordentliches Debütalbum ab, bei dem der geneigte Black Thrasher sich auf weitere Werke von ETERNAL EVIL freuen darf.
Ludwig Lücker vergibt 7,5 von 10 Punkten