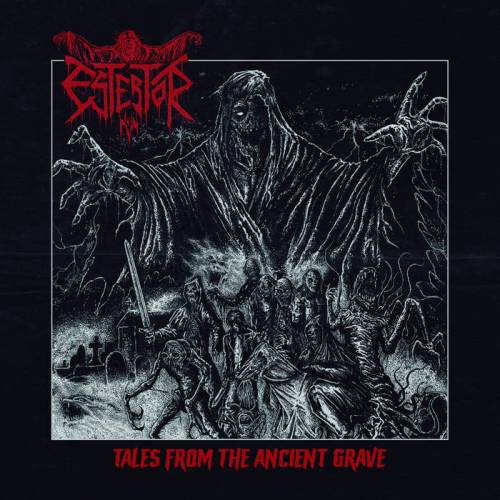 ESTERTOR
Titel: TALES FROM THE ANCIENT GRAVE
Label: WAR ANTHEM RECORDS
Spieldauer: 37:31 Minuten
Ich habe ja seit jeher einen Faible für spanische Bands, auch wenn diese Kapelle aus Barcelona – wichtig für Lokalpatrioten; also eher katalanische Band – eher wie eine typische südamerikanische Kapelle klingt.
ESTERTOR zocken hier auf ihrem zweiten Langeisen namens "Tales From The Ancient Grave" einen fetten Thrash Metal, der deutlich angeschwärzt ist, da die Mucker aus der spanischen Doom/ Death und Black Metal Szene stammen, und der mit seinen rauen, röcheligen Vocals ordentlich aus den Boxen drückt und sich so gar nicht nach dem mehr verbreiteten traditionellen spanischen Metal anhört.
Das, was ESTERTOR machen, machen sie allerdings gut. Das nach einem ruhigen Beginn stampfende, hymnische 'The Torch That Corrupted The Earth', der subjektiv stärkste Track der Scheibe, das im pumpende Up Tempo marschierende 'Blood For Sheetar' und der punkige Speedster wissen mir richtig gut zu gefallen.
Auch der Rest der Scheibe gibt ordentlich Gas, vermag es aber nicht ganz an die genannten Songs heran zu kommen; ein Stinker befindet sich allerdings auch nicht darunter.
Freunde räudigen Underground Thrash's, und davon soll es ja einige geben, sollten sich "Tales From The Ancient Grave" unbedingt mal rein ziehen; da machen sie nichts falsch.
Ludwig Lücker vergibt 7,5 von 10 Punkten