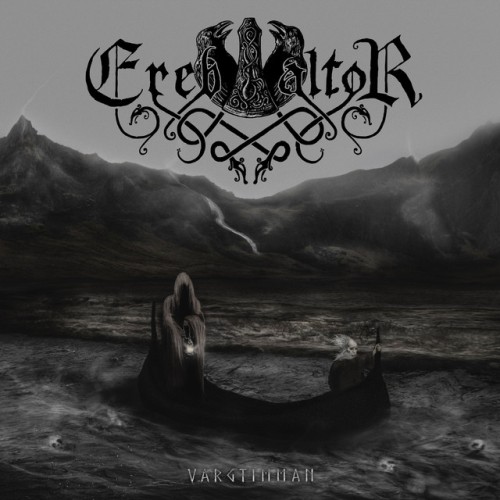 EREB ALTOR
Titel: VARGTIMMAN
Label: HAMMERHEART RECORDS
Spieldauer: 42:26 Minuten
Ich muss zugeben, ich bin ein ausgeprägter Fan von EREB ALTOR und deren "Hauptband" Isole, spätestens seitdem sie beim dem ersten deutschen Live Auftritt von The Devils Blood in Würzburg in Personalunion auftraten und den gehypten Hauptact an die Wand spielten (es gibt da natürlich auch viele andere Meinungen, aber …. siehe Hype).
EREB ALTOR zocken, auch beeinflusst durch ihre nordische Heimat, Epic Doom in Verbindung mit Viking Metal und haben auch durch ihre niemals verleugnete Liebe zu Bathory oftmals eine Breitseite Black Metal zu bieten, die sie gerne mal rein hauen, wenn es zu doomig wird.
Gleich mit dem Opener 'I Have The Sky' hauen die Schweden eine Viking Metal Klassiker für die Ewigkeit heraus; Bathory meets Grand Magus. Ein heroischer ohohoho Chorus, ein tonnenschweres Riff, treibendes Mid Tempo; mit einem Wort eine eingängige Hymne par Excelence – gut, das war mehr als ein Wort -. Aber auch danach fahren sie schweres Geschütz auf. Das zwischen ruhigen Parts und hymnischen, pumpenden Mid Tempo wechselnde 'Fenris', das heroische, schleppende 'Alvablot', das mit einem coolen Drum Groove beginnende, treibende 'Ner I Mörkret' und das schleppende, hymnisch/heroische 'Heimdals Horn' sind würdige Kampfgefährten für den Opener, allerdings etwas weniger eingängig, aber nicht einen Deut weniger mächtig.
Waren EREB ALTOR immer schon gut, so ist das aktuelle "Vargtimman" auf jeden Fall zu ihren Glanztaten zu rechnen. Wer Viking Metal ohne jegliche Anbiederung an Methorn und Schunkel Metaller will, der MUSS hier zugreifen.
Ludwig Lücker vergibt 9 von 10 Punkten