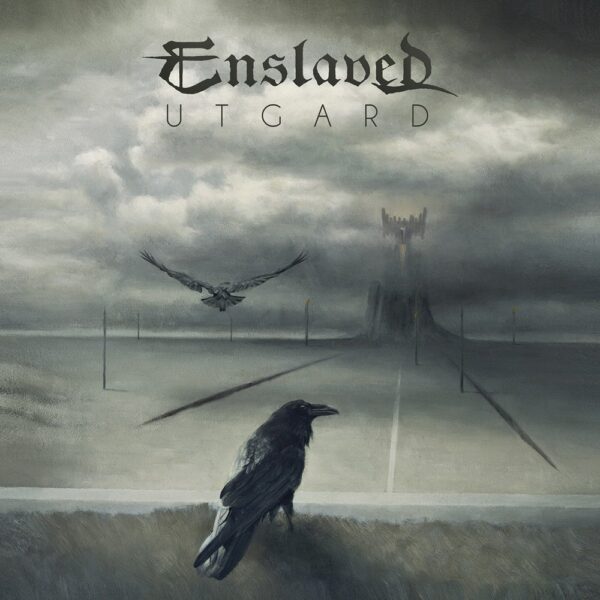 Label: NUCLEAR BLAST / WARNER
Spieldauer: 44:48 Minuten
Zunächst fällt auf, dass die Norweger nach den Songmonstern auf "In Times" und "E" auf kürzere Kompositionen setzen. Wer jedoch denkt, dies ginge einher mit einer größeren Eingängigkeit, sieht sich von den ersten, kernig folkloristischen Tönen des vielschichtigen (und leider etwas abrupt endenden) Openers "Fires In The Dark" getäuscht: ENSLAVED packen die unterschiedlichen Parts einfach in 4 1/2-6 1/2minütige Songs, die beim Hören vieles abverlangen.
Selbst kompaktere Tracks wie die vorab vorgestellten "Homebound" (immer wieder schön) und das old schoolige "Jettegryta" überraschen bekanntlich mit vertrackten Prog-Breaks. "Sequence" ist ein vollkommen abgepfiffenes Stück Musik mit einem coolen Shuffle-Rhythmus (!!), ansonsten verbinden sich darin Grutle Kjellsons Black Metal-Gekeife und proggige Arrangements auf kongeniale Weise. Die elektronischen Experimente in "Urjotun" werden bei Puristen nachhaltig für Kopfschütteln sorgen (die hat man aber wohl eh schon für immer vergrätzt). Ihre wahre Meisterschaft zeigen die Soundmagier, wenn sie danach Classic Rock und Black Metal im Riff von "Flight Of Thought And Memory" vereinen. Und am Ende wird es richtig proggig: während "Storms Of Utgard" ein beinahe schon Jim Matheos-artiges Riff auffährt, waren ENSLAVED noch nie so nah am 70ies-Prog wie in "Distant Seasons".
Insgesamt ist "Utgard" erneut ein Stück spirituell fordernder extremer Musik, dessen Mix aus Black Metal und Modern Prog ein schöner Fluss innewohnt. Schade nur, dass gerade der Einstieg mit "Fires In The Dark" trotz starker Momente etwas bruchstückhaft geraten ist. Insgesamt ist der skandinavischen Institution jedoch ein weiteres sehr starkes Album gelungen.
Patrick Müller vergibt 8 von 10 Punkten