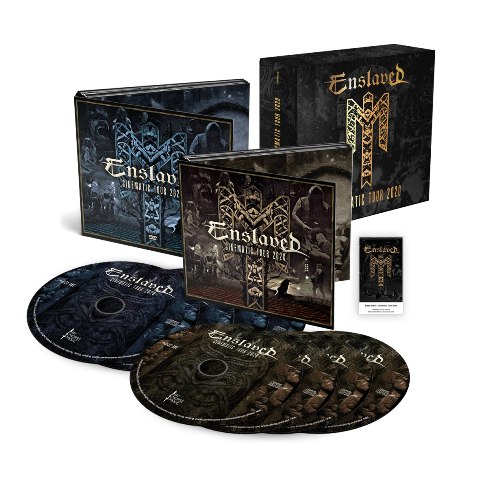 ENSLAVED
Titel: CINEMATIC TOUR 2020 BOX
Bei den vier Veröffentlichungen, welche zur Cinematic Tour Box zusammen gefasst wurden, handelt es sich allesamt um Streaming-Konzerte aus dem letzten Jahr, welche ENSLAVED veranstalteten, da sie die zuvor veröffentlichte "Utgard" Scheibe nicht betouren konnten.
"The Rise of Ymir" wurde am 1. April beim Verftet Online Music Festival in Bergen aufgenommen wurde. Die drei anderen Alben "Chronicles of the Northbound", "Below The Lights" und "Utgard – The Journey Within" wurden speziell während der Cinematic Streaming Tour aufgezeichnet.
Über die musikalische Qualität ENSLAVED's muss ich hier wohl nichts weiter erzählen; sie beherrschen das Metier zwischen Progressive und Viking Metal wie keine andere Band und präsentieren diese Klasse auch auf dieser Veröffentlichung, an der weder ENSLAVED Fans noch Neu Einsteiger herum kommen.
Die Veröffentlichung gibt es übrigens in folgenden Variationen: Wooden Boxset (ltd. Edition 300 Kopien), Splatter-Vinyl (ltd. Edition 300 Kopien), 4 x CD/DVD Boxset (ltd. Edition 1000 Kopien), 4 x DVD (ltd. Edition 1000 Kopien) und als digitale Alben; wobei die Wooden Box wohl schon nicht mehr zu bekommen ist.
Für alle interessierten Komplettisten hier noch die Aufzählung der einzelnen Track
BELOW THE LIGHTS
As Fire Swept Clean TheEearth
The Dead Stare
The Crossing
Queen Of Night
Havenless
Ridicule Swarm
Darker Place
CHRONOCLES OF THE NORTBOUND
Ethica Odini
Roots Of The Mountain
Fenris
7983 (Slaget Om Lindisfarne)
Isa
The Watcher
Death In The Eyes Of Dawn
THE RISE OF YMIR
Ethica Odini
Return To Yggdrasil
Ruun
The Dead Stare
The Crossing
Havenless
Sacred Horse
Isa
UTGARD-THE JOURNEY WITHIN
Intro Utgardr
Jettegryta
Homebound
Urjotun
Flight Of Thought And Memory
Ludwig Lücker vergibt keine Bewertung